This post has been compensated and I received product to test for my review; however, all opinions are my own.
It's no mystery that fresh flowers have the power to boost someone's spirits, even turn someone's day around. I know they do for me!
Having fresh flowers in my house can make a big difference in my mood and how clean my house is, so I love the idea of a subscription service to have fresh flowers delivered to your home on a regular basis! That's exactly what the Bloomsy Box flower subscription service offers.
A little bit about Bloomsy Box:
Flower deliveries every month
Flowers handpicked for you
Sent direct from the farm
Premium blooms
Free shipping
Three bouquet size options
These flowers were delivered to me a couple weeks ago. They came in a sturdy box, neatly secured inside so my blooms would not get damaged.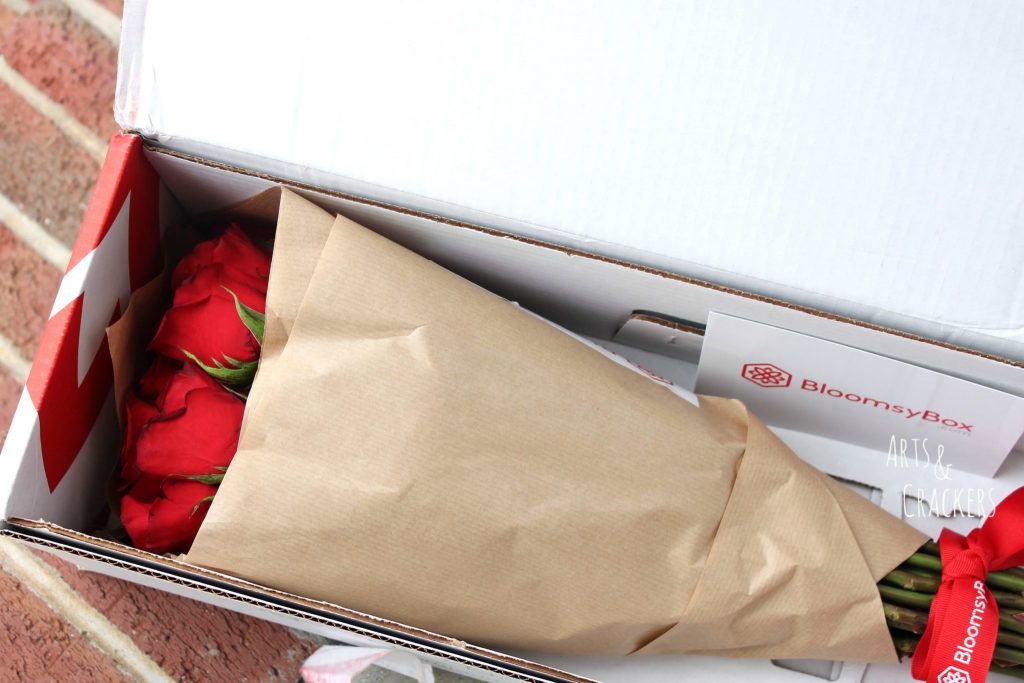 The way Bloomsy Box works is they pick the fresh flowers for you, so you don't know what type of flowers you will be getting each month. This month I received beautiful roses!
While I don't usually care about branding on packages that come, I enjoyed the attention to detail this company gave. They put their logo on a sticker to hold the paper wrapping together…
And even had their name on the ribbon tied in a bow around the stems!
I was so excited to set up these flowers and brighten up my house. I immediately found a vase (I had to use a large mason jar because my other tall vase is missing–looks amazing so I'm glad I did!) Each time I get freshly cut flowers, I do a number of things to care for them–
warm water with flower food
trim the stems
remove any bad outer leaves
set them in indirect sunlight
…these little things can make a huge difference in how long your flowers last.
When the flowers arrive, you will notice that some stems look limp and the flowers aren't opened up very much (at least with these roses.) That's normal! Taking care of them properly and giving them a day or so after deliver will have them perky and fresh looking again.
There were a few days when I missed my opportunity to care for the flowers, so they didn't quite last two weeks, but they did last close to that! See how they changed.
I missed a few photos in there, but I did get days 1-4 and day 12.
What I Love
I love that these flowers are fresh and that you can definitely tell that they are fresh. The cheerful aroma, the bright colors–they are gorgeous. The package even said one of the places these flowers could have been sent from. The flowers lasted a great amount of time and I think the ability to receive the fresh flowers each month is brilliant. This would make an amazing gift for birthdays, Mother's Day, Christmas, anniversaries, or just because!
What I'm Not Huge On
While I know this happens with all fresh cut roses, I would have loved if there were no thorns. There were only one or two, just be cautious when handling fresh cut roses in general. I also would love to have seen the option to add flower preferences. Now, I like most flowers, but there are some that have one type they really don't like or one type they really love. In the future, it would be great to have a way to control this, at least to an extent.
I also would have liked to see a better description of the bouquet sizes. I was supposed to receive the large and had just over two dozen roses (25 stems), but that overlaps how many you receive in the medium size. Their numbers can be found when you click on "pick" for each size, but it has a range of numbers so you don't know for sure how many you will receive. I don't mind surprises, but I would love to see this tightened up a little bit so you know a little more what to expect. Twenty-five roses was so pretty, but I feel the large should for sure have more than the medium size.
Learn more about Bloomsy Box.
Read also: 5 Ways to Show Someone You Care and 8 Quick Tips to Transform Your Home Decor
What is your favorite kind of flower? Where do you love to put your fresh flowers? Share with me in the comments!