With St. Patrick's Day in a couple weeks, I have rainbows on my mind–foods, projects…I'll be sharing a few. While we don't necessarily celebrate St. Patrick's Day, I love any excuse to do a rainbow craft or recipe.
To kick off my rainbow projects, I made the boys rainbow s'mores.
Yes.
You read that right.
RAINBOW. S'MORES.
These are super simple and the kids loved them.
S'mores are something that always reminds me of warm weather (or at least sitting in front of a warm fire.) I am so excited for spring, so this is the perfect time for s'more snacks.
You can make them right in your house.

Sign up for my newsletter!
So, here's how to make them.

But FIRST, a little safety tip:

Do not. I repeat DO NOT heat these up on a paper plate. Okay, confession time: I tried using paper plates at first and…well…I kind of sort of almost started a fire…something you don't want when making your s'mores indoors.
So don't use paper plates. Find yourself a microwave-safe plate.

What You Need
Graham crackers
Colored candy melt chips
Mini marshmallows
Directions
1. Grab that microwave-safe plate and place your graham cracker on it. I used chocolate graham crackers. I'd love to say this is because I'm such a "cool mom" I went with chocolate, or because they give it a great flavor; but in reality I went with chocolate because I put them away in the plain graham cracker box (which had no plain graham crackers in it.) I would have preferred plain, but the boys didn't care.
2. Chop up the melting chips. I buy this brand and purchased them in red, yellow, green, and blue. You can use any colors you wish, I just recommend choosing 3-4 different colors from the ROYGBIV spectrum.
3. Using the chopped melting chips, make a rainbow of the colors across about 2/3 of the graham cracker. Microwave (on the microwave-safe plate) until the chocolate is near-melted. I stuck it in for about 20 seconds (time may vary depending on your wattage.)
4. Remove the plate from the microwave and add a mini marshmallow "cloud." Microwave a few more seconds to cook the marshmallows. WATCH CLOSELY or they will make a mess! You might need to microwave in bursts of a few seconds until they are melted to your liking.
I decided to blend the melted colors together some so it looked smoother. I was lazy and used my finger, since my kids didn't want to wait any longer for their snack, but you can use toothpicks so it has a smoother look.
PS, you can also heat this up in the oven–if you do, keep a close eye on it! You can broil everything together for a short period of time (on a pan) but keep a very close eye on it!
Time to snack! Your kids will love these tasty treats. This is perfect for introducing rainbow education (biblical references, the science of it, the colors.)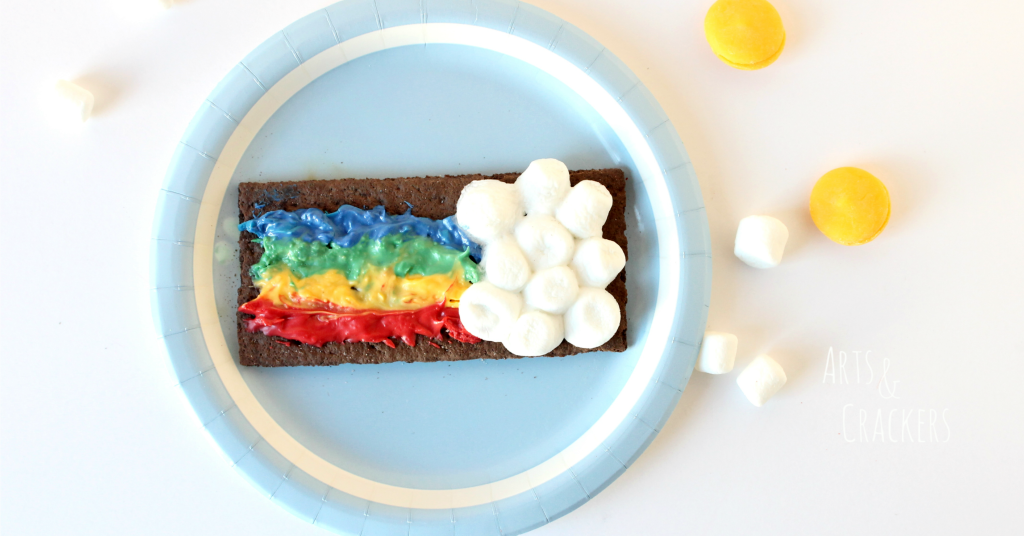 Read Also: Rainbow Sentence Building Activity and A Rainbow of Ways to Teach Colors | 7 Learning Activities

I would love to hear from you in the comments below–What is your favorite way to celebrate St. Patrick's Day? Do you love rainbows?

Sign up for my newsletter!
Know someone who would love this? Hit the "share" buttons below! Be sure to follow Arts & Crackers on Facebook, Twitter, Pinterest, Instagram, or the others at the top right!