Once in a while I give my kids fruit snacks as a treat; yesterday was one of those days. As I unrolled it, I imagined it as a snake! This prompted a spur of the moment craft with my son and we enjoyed it a great deal.
Read on to find out how you can turn this fun snack and craft into a learning opportunity!
I've included two crafts: an edible one for the actual fruit roll and an upcycled version to use the wrapper!
Fruit Roll Snake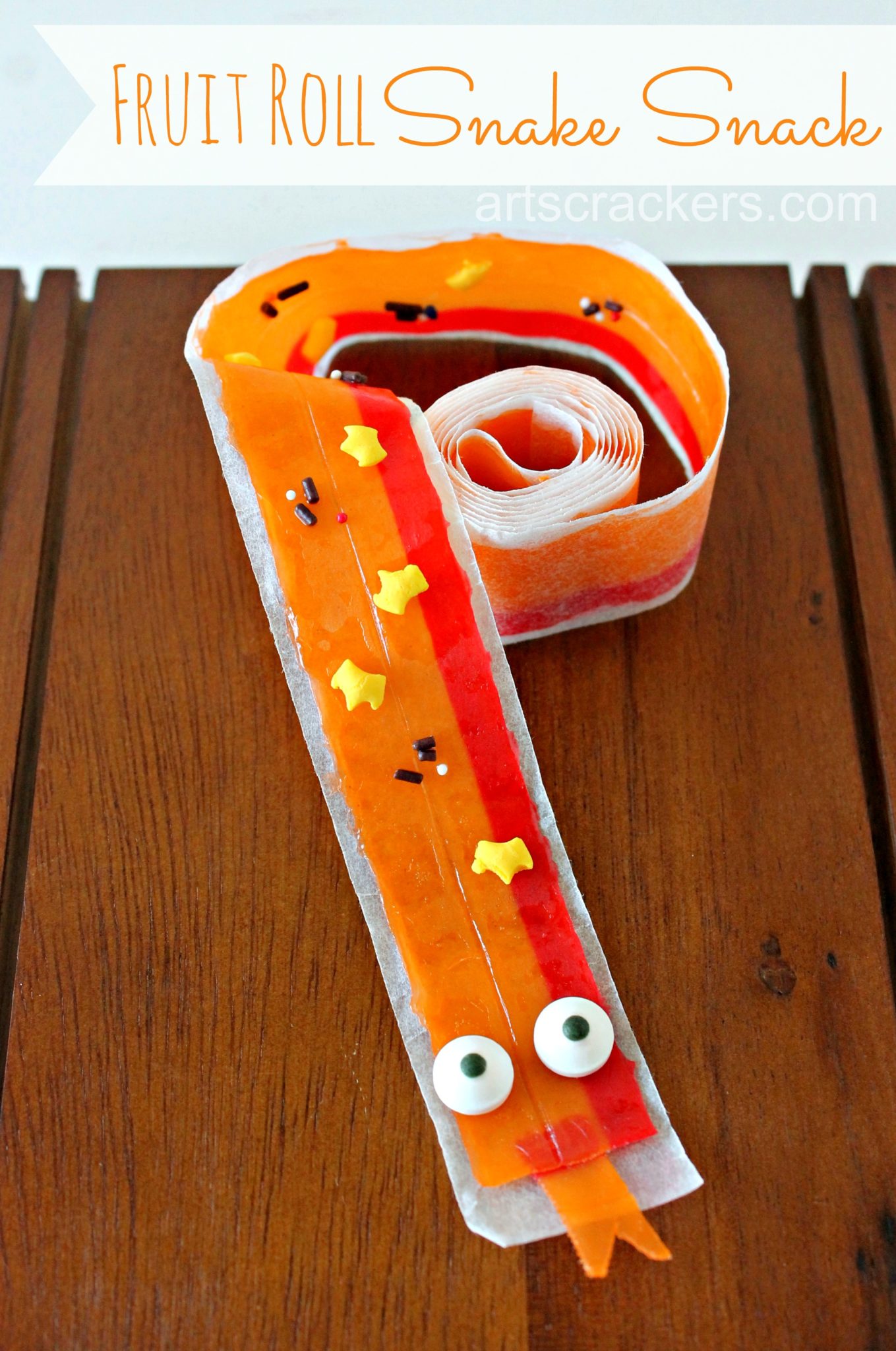 What You Need
Long fruit roll snacks with paper wrappers
Sprinkles
Candy eyes
Clean cotton swabs
Little cup of water.
Directions
1. Slightly unroll the fruit snack. Using a butter knife, carefully cut a small piece off the end of the fruit snack then cut a triangle out of one side of that piece to make a forked tongue.
2. Dab a little water on the backside of the tip of the fruit snack and stick the flat side of the tongue to it. Be sure to do light dabs not rub the cotton swab on or it can leave fuzz.
3. Where you want to add sprinkle decorations, add a dab of water.
4. Stick on the sprinkles and gently push them down so they stick better. Confetti sprinkles, jimmies, and small nonpareils work well. You can decorate the whole snack if you wish, but I just unrolled about one foot and decorated that part then left the rest rolled up.
4. Add two small dabs of water to the front of the snake and add the candy eyes.
5. Let this dry some before eating or you could find yourself in a pretty sticky situation.
Fruit Roll Wrapper Snake
What You Need
Long paper fruit snack wrapper (you can use this from store bought snacks or homemade roll ups or you can just cut strips of parchment or wax paper)
Markers
School glue
Googly eyes
Red construction paper
Directions
1. Once you finish eating your treat, lie the wrapper down on a flat surface and gather supplies. You will want to cut a small forked tongue out of the red construction paper.
2. Using the markers, color fun patterns all over the snake. This is a great opportunity to teach your child about patterns and repetition. If your child needs more direction on this step, you can draw black pattern lines and let him/her color it in once it has dried.
3. Flip the paper strip over to the back side. Add a tiny amount of glue to the tip and place the tongue there.
4. Turn your paper back over to the front where you colored and add little dots to glue on the eyes. Since snake eyes are positioned more on the side of their heads, we spread them out a little further and had each near the edge.
5. Let your glue dry completely then enjoy your beautiful snakes! Wind up the ends so it looks like they are coiled in a pile, let your child pull them around on a walk, or hang it around the back of his/her neck, supervised of course (please do not allow your child to wrap this around his/her neck for safety purposes; even though the paper tears pretty easily, we do not want to risk kids getting strangled!)
Take this opportunity to teach your kids more about snakes.
You May Also Like
-What are your favorite fruit snack flavors? Are you going to do these crafts? Share your pictures on my Facebook page or email them to [email protected]