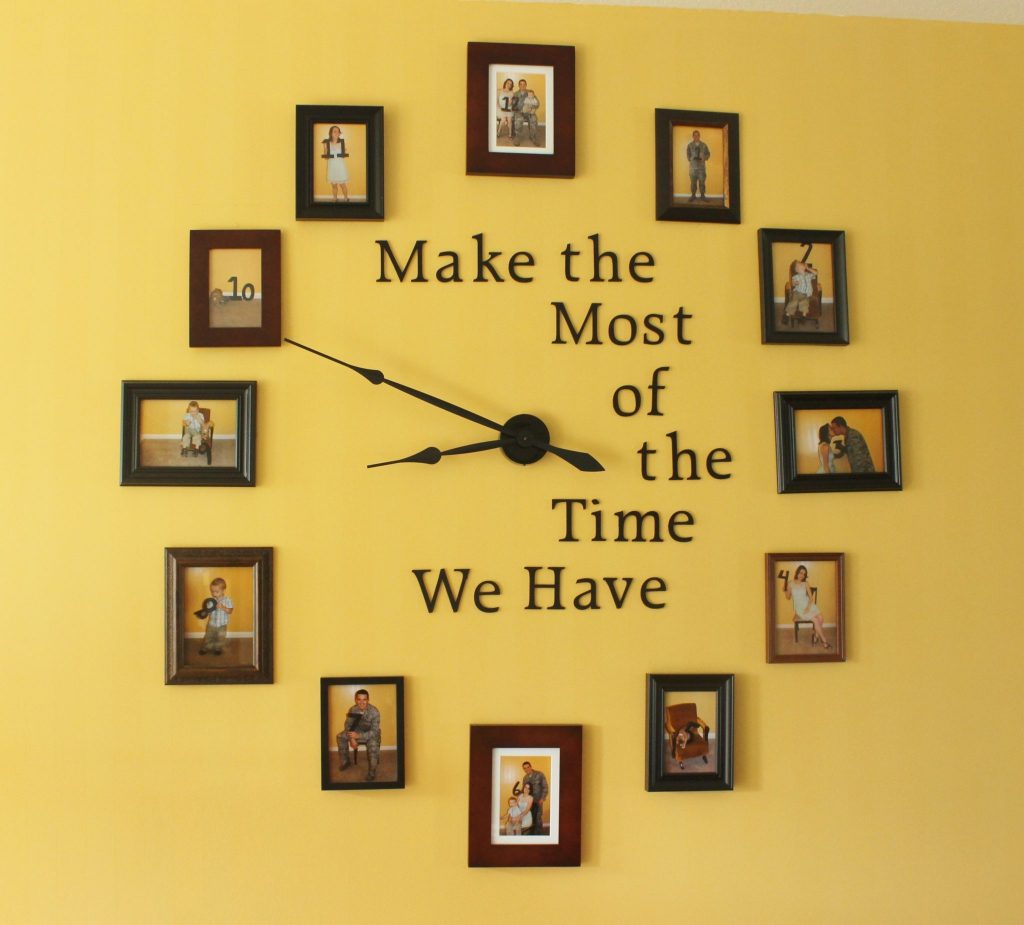 I saw a similar photo wall clock to this a while back on Snapfish's Facebook page and thought I would make my own version. This is a great, fun, unique project for your home and it could save you some money on a large wall clock. Of course the price will be different for everyone depending on if you choose to have words, how many you choose to have, what discounts you get, how many frames you already have…the list goes on. Here is what I got:
12 mix-match frames (some that I had, some that I purchased ranging from $1 to $5)
12 photo prints–I used a mixture of 4×6 and 5×7, but to save some money you could use 4×6 in each when you get free prints and just put borders around the pictures that have larger frames
12 numbers for us to hold (I cut them out of cardboard boxes and spray painted them but you could also purchase wooden letters to make them cleaner)
Lettering from CraftCuts.com here
Large clock hour and minute hand piece (purchased at Hobby Lobby…regular price $40 but we found it on sale 50% off or you could use their 40% off coupon to save money if it is not on sale)
1) You will need to find where you want to mount the minute/hour piece. Make sure you have enough room for this large clock! Ours is over half the height of the wall.
2) Find out where you need to hang your frames. There is a positioning paper piece in the clock kit to make this easier. Measure to make sure you go straight out; point the minute hand out to make sure the frame is far enough out after being hung so they do not get hit; hand the key hours first (3, 6, 9, 12) and eyeball the rest. If you are using different sized and shape frames, make sure you take that into consideration when hanging them. Personally, I used larger frames for the key hours and hung the 3 and 9 hour frames horizontally to make it even quicker to tell what time it is.
3) Take your photos for each of the hours and place them into the frames. We took various family photos all holding a number; however you can always add landscape pictures, family pictures with no numbers (or you can add them later in Photoshop or tape/glue them to the photo,) frames with just the numbers, whatever you choose. If you need different size or prints in different directions, be sure to keep a list so you have them all printed properly and do not have to try over again. Once this is done, you can put your photos in the frames and hang them.
4) If you choose to have lettering, now is the time. We used CraftCuts.com Baltic Birch letters and stuck them to the wall with double-sided wall mounting tape. You could also try wall vinyl lettering which you can find at most craft stores (don't forget to use their coupons to save money!) as well as CraftCuts.com and some other online companies.
Your wall clock is done!
Enjoy your personalized decoration and "make the most of the time you have"! Here is an idea for an alternate large wall clock: rather than using hanging photo frames, use small shelves and on each shelf either put a frame or a wooden free-standing number! You can always put a small frame AND the wooden number, the numbers and small vases with fabric flowers, or any trinkets that fit your décor!
–Are you going to do this? Post up your photos on my Facebook wall!
Written by Alyssa Darby
Follow me on
Google+
,
Facebook
,
Twitter>,
Pinterest
, and
Instagram
.
This post may contain affiliate links and sponsored ads; using these links helps support my blog.
Advertise Here; contact artscrackers@gmail.com.