Photo wall clocks are a fun way to display your family photos while making something useful (a wall clock). A while back I saw something similar on Snapfish's Facebook page, and I decided I would share my own, slightly-different version of this Large Photo Wall Clock DIY — "Make the most of the time we have." (I wish I knew the original source of the idea!)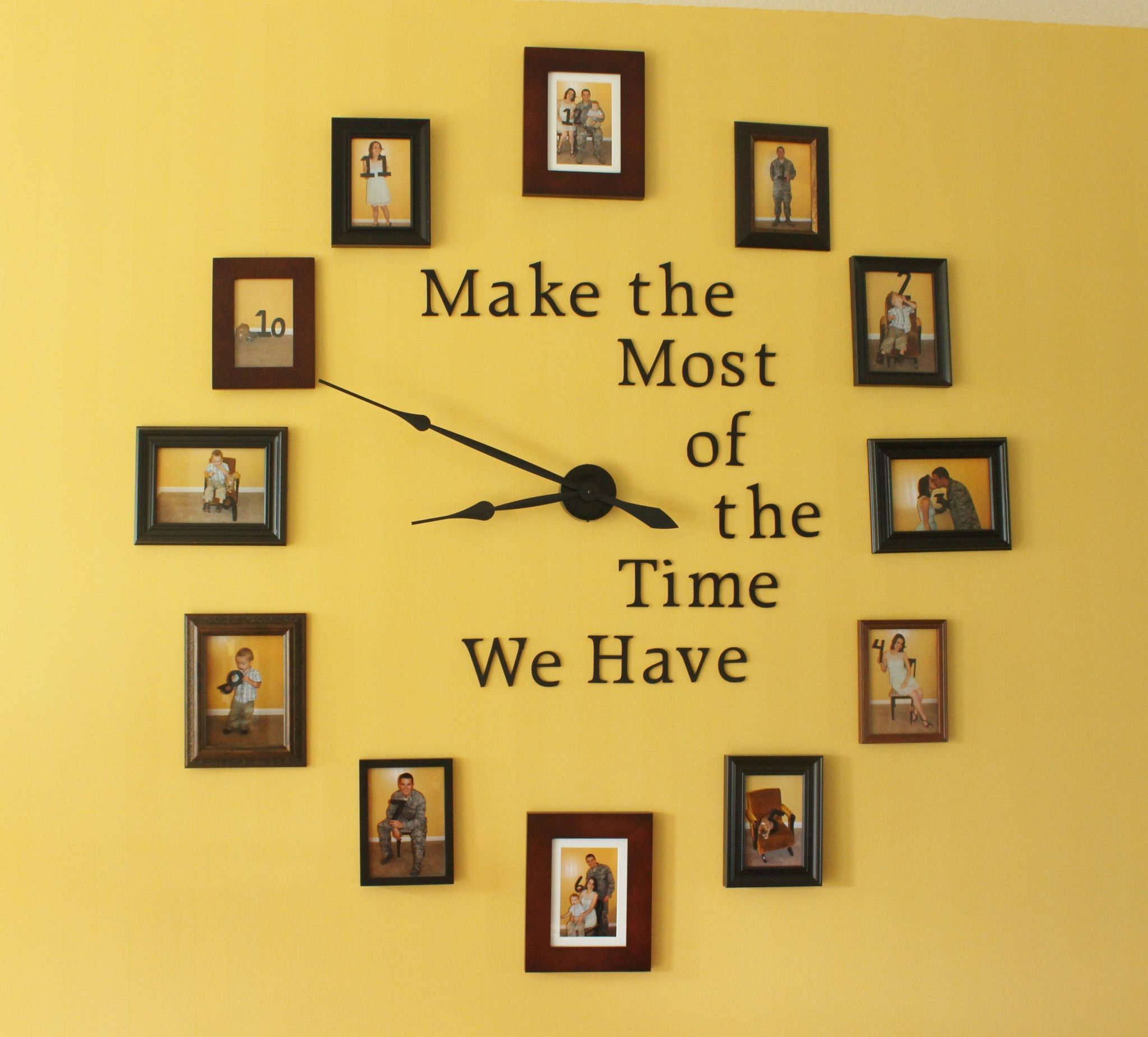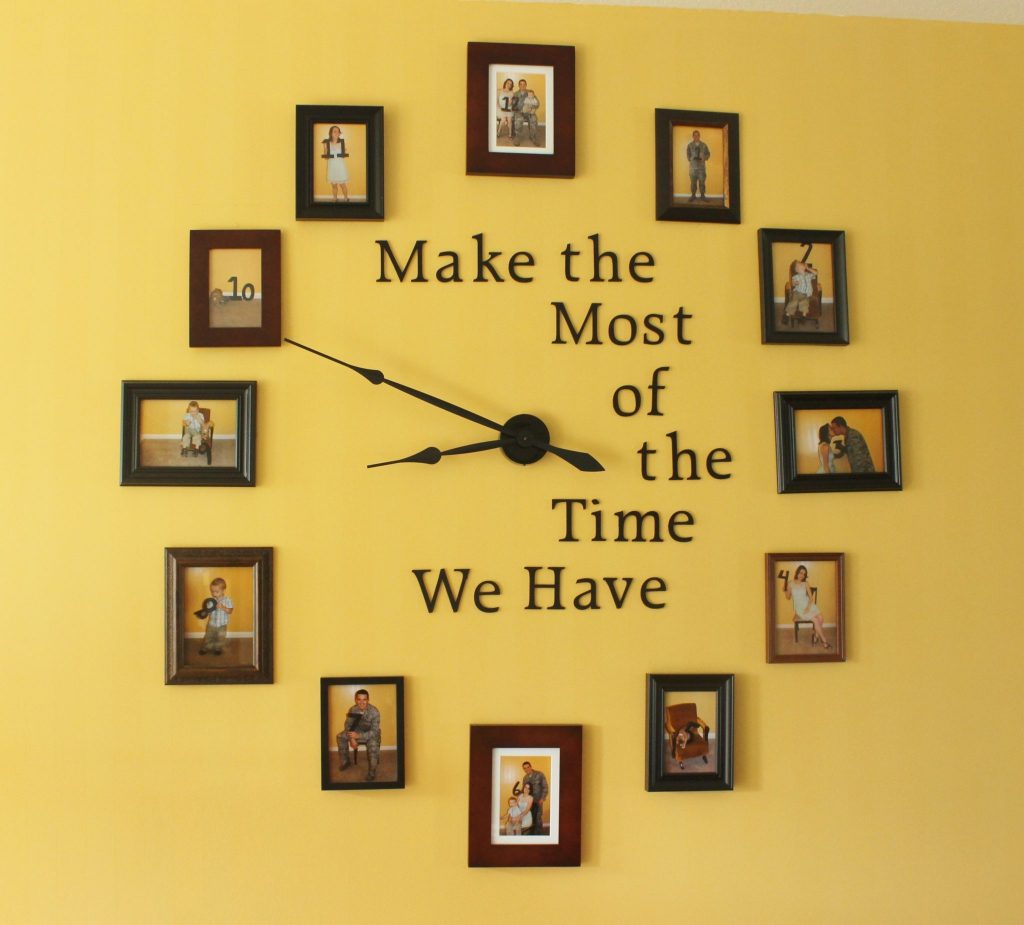 This project is great fun for your home, makes a gorgeous centerpiece to your room, and it could save you some money as opposed to purchasing a large wall clock (if you watch for deals). Of course the price will be different for everyone depending on if you choose to have words, how many you choose to have, what discounts you get, how many frames you already have…the list goes on.
What You Need:
12 mix-match frames (some that I had, some that I purchased ranging from $1 to $5)
12 photo prints–I used a mixture of 4×6 and 5×7, but to save some money you could use 4×6 in each when you get free prints and just put borders around the pictures that have larger frames
12 numbers for us to hold (I cut them out of cardboard boxes and spray painted them but you could also purchase wooden letters to make them cleaner)
Lettering from CraftCuts
Large clock hour and minute hand piece (purchased at Hobby Lobby…regular price $40 but we found it on sale 50% off or you could use their 40% off coupon to save money if it is not on sale)
Directions
1) Decide where you want to mount the minute/hour clock piece. Make sure you have enough room for this large clock (it takes up quite a bit of the wall–ours is over half the height of the wall!).
2) Find out where you need to hang your frames compared to the clock piece. There is a positioning paper piece in the clock kit to make this easier. Measure to make sure you go straight out; point the minute hand out to make sure the frame is far enough out after being hung so they do not get hit; hand the key hours first (3, 6, 9, 12) and eyeball the rest. If you are using different sized and shape frames, make sure you take that into consideration when hanging them. Personally, I used larger frames for the key hours and hung the 3 and 9 hour frames horizontally to make it even quicker to tell what time it is.
3) Take photos for each of the hours (holding the numbers so you can easily identify which frame goes where) and have them printed. You can use any type of picture you want…it doesn't have to be your family only…maybe landscape pictures, family pictures with no numbers (or you can add them later in Photoshop or tape/glue them to the photo), frames with just the numbers, school pictures, photos from places you've traveled, whatever you choose. If you need different size or prints in different directions, be sure to keep a list so you have them all printed properly and do not have to try over again. You can also trim some photos if needed. Once this is done, you can put your photos in the frames and hang them on the spots you marked.
4) If you choose to have lettering in the center of the clock, now is the time. We used CraftCuts.com Baltic Birch letters and stuck them to the wall with double-sided wall mounting tape. You could also try wall vinyl lettering which you can find at most craft stores (don't forget to use their coupons to save money!) or custom make your own letters if you're handy with wood-working. We added the words "Make the most of the time we have" from a Christian song that we love. It is a great reminder that time is limited, and we should use that time wisely…do great things, be kind to others, serve God, and spend precious time with our families. Some things can wait.
Your wall clock is done!
Here is an idea for an alternate large wall clock:
Rather than using hanging photo frames, use small shelves and on each shelf either put a frame or a wooden free-standing number! You can always put a small frame AND the wooden number, the numbers and small vases with fabric flowers, or any trinkets that fit your décor!
Read also: How to Transform Your Patio in a Day and 8 Quick Tips to Transform Your Home Decor

Looking for more? View these categories!