My oldest son, E, really wants to be an engineer when he grows up. As a homeschool mom, I do my best to help him towards that goal. We recently discovered Circuit Cubes and totally fell in love. They're perfect for exploring circuits and they make a great circuitry STEM building activity for kids.
We've partnered with Circuit Cubes for this super STEM post. This post contains affiliate links; by purchasing through these links, you help support the Arts & Crackers family!
If you follow me on social media, you may see me share some of the incredible creations my boys, especially E, come up with involving building bricks and the like. He's always creating moving parts, thinking through even the tiniest details, and just making things that would impress anyone.
The great thing about Circuit Cubes is that it involves building bricks that work with the plastic bricks we already have at home! This makes the opportunities endless. Circuit Cubes are the perfect tool for our homeschool!
Exploring Circuits – Circuitry STEM Building Activity for Kids
Circuit Cubes has a few kits currently available: "Bright Lights" (which is the one we have), "Whacky Wheels," and "Smart Art." I love the Bright Lights Kit because it comes with a battery (that you comes with USB for convenient charging), a motor, and the light and there is so much you can do with it.
First, I had E make a few items from inside the instructions booklet. They give several different ideas to try, like a crank flashlight and a spinning lighthouse. This gave him an idea of how it works and some basic creations to start him off.
The instructions were fairly easy to follow for him. There were a few parts that were confusing, so we took that time to experiment to see how we could get it to work.
Once he figured out how to work it and some basic items to make, I had him gather some of his other building brick supplies and just have fun! He decided to make a vehicle that drove forwards and in wide circles.
Throughout the process, both creating from the book and creating something unique, we hit some snags. Sometimes the light wouldn't light up. Sometimes the motor didn't run correctly.
The other day, we were watching a learning show all about engineering. Of course, E paid very close attention to this episode. I loved that the entire episode they shared how it's okay to fail and it's okay to make mistakes. They shared how engineers love mistakes, because it gives them a chance to learn more and do it better the next time.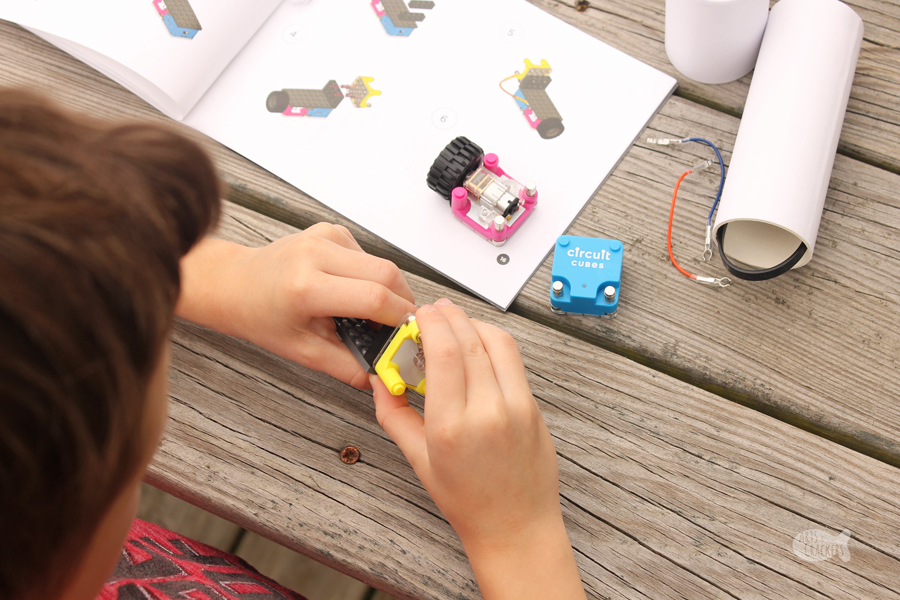 We were sure to stay calm and not have meltdowns when things weren't working properly; we'd just try, try again. Sometimes we'd have to flip the battery around. Sometimes we'd try different wires or hook the wires to a different spot. Sometimes we even had to add extra wires, because the pieces were not grounding properly on their own. It's all about trial and error and working through to find solutions.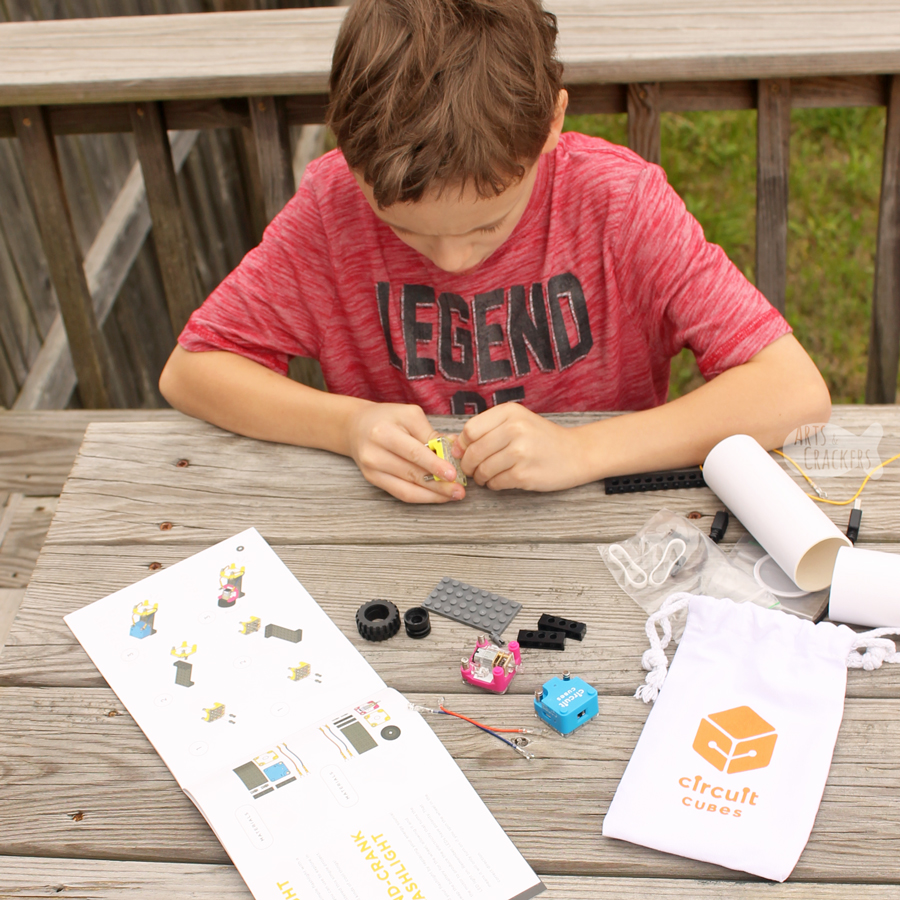 With the Circuit Cubes Kits, children are able to get creative, learn patience, and practice problem solving. You can combine the kits with each other or combine with other things you have around the house! We might try using ours with a snap circuits board. The point is to experiment and try new things while learning STEM concepts.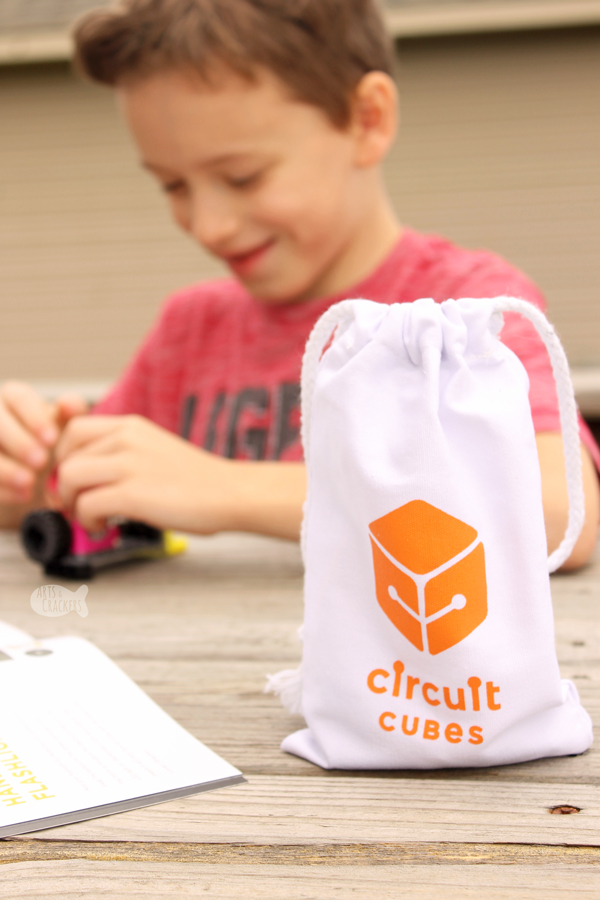 Our Circuit Cubes Kit came with a nifty drawstring bag so we can put everything away neatly so we don't lose any pieces. Teach your kids responsibility by reminding the to put all the pieces back into the bag when they are finished!
Ways to Learn With Circuit Cubes
Follow the instructions to build items from the kits
Combine with other building bricks to create your own inventions
Experiment with using different wires and attaching them to different areas to see if they work or not
Learn that failing is totally cool and helps you discover the right way
Try to make something useful (like the crank flashlight)
Make something with moving parts
Try to make a cool moving light design for the wall
Build a robot
Talk about batteries, motors, lights, and circuits
Read also: Ways to Encourage STEM Education At Home and School and Which Weighs More? Weights and Measurements STEM Activity

Looking for more? View these categories!