If there is one food I would call my favorite, it would be pasta, because it is so versatile and it comes in so many fun shapes like ravioli. While I love my pasta, I wanted to stand out so I went a slightly different route for my pasta recipe for this month's challenge.
 
Pasta-inspired
 
Instead of making an actual pasta dish, I wanted to create something I dreamed up a while ago, inspired by ravioli. Seasonally I have seen restaurants come out with pumpkin ravioli, so I thought…
What if I made pumpkin ravioli that were actually mini pumpkin pies?
 
I call it–
Pie-sta!
 
You heard it here first, folks.
 
The resulting dish remarkably resembles a pumpkin ravioli pasta dish, but in reality they are mini ravioli-shaped pies, and they are so delicious.
Speaking of ravioli, have you seen my Cookie Cutter Ravioli from a few years ago?
 
Enjoy the flavors of fall year-round with this sweet and savory spiced dessert–pie crust filled with delicious pumpkin pie, topped with a melted ice cream sauce and toasted walnuts.
Start by preparing the pie filling. Whisk the pumpkin pie seasoning, salt, and sugar into beaten eggs.
Whisk in pumpkin. I just used canned pumpkin (it's kind of difficult to find fresh pumpkins in spring…).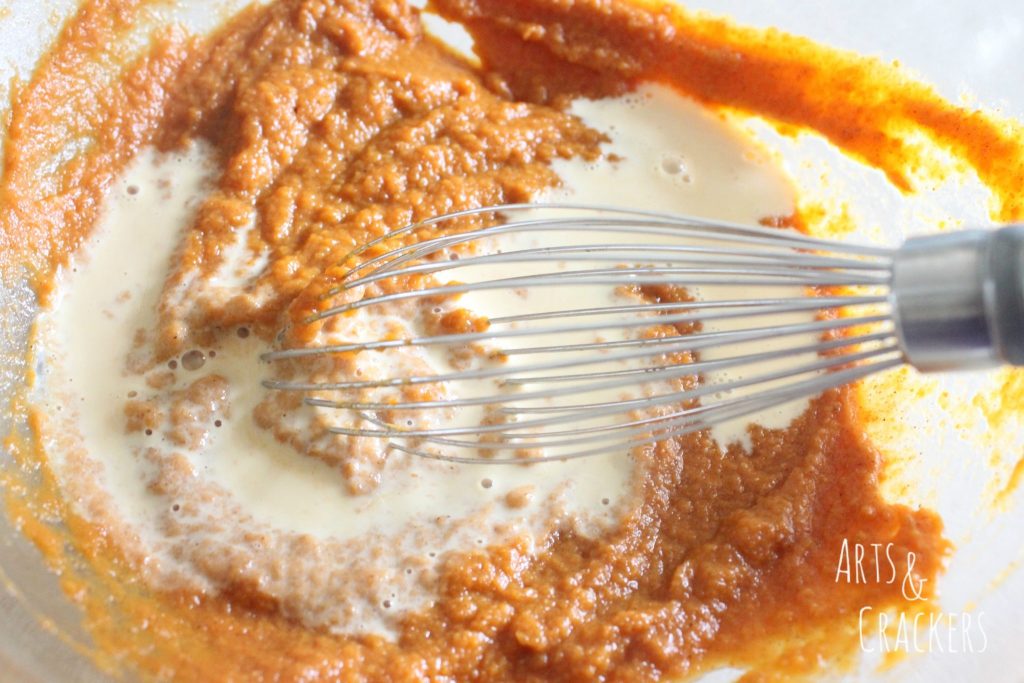 Slowly whisk in evaporated milk until the mixture is well-combined.
Set aside and refrigerate.
Now for the crust. I just used pre-made, refrigerated pie dough. On a flour-dusted surface, let it sit out a few minutes, then you will want to dust the dough and a marble rolling pin with flour and thin out the dough. Give it a few good rolls until it is pretty thin, but be care not to let it rip.
Cut small ravioli shapes in the dough. I used this ravioli-making kit to cut and press the ravioli shapes (honest–I had the idea before I saw this kit for mini pies and I knew I had to buy the set!).
Using a clean paintbrush or a natural bristle pastry brush, wipe a small amount of beaten egg around the edges of the bottom piece of the ravioli-shaped pie crust then scoop or squeeze (using a pastry bag or sandwich baggie) a small amount of the pumpkin pie filling into the center. Be sure to leave yourself enough room that it will not all squeeze out when you press the top on. You may need to do a couple practice ones if you are not used to this.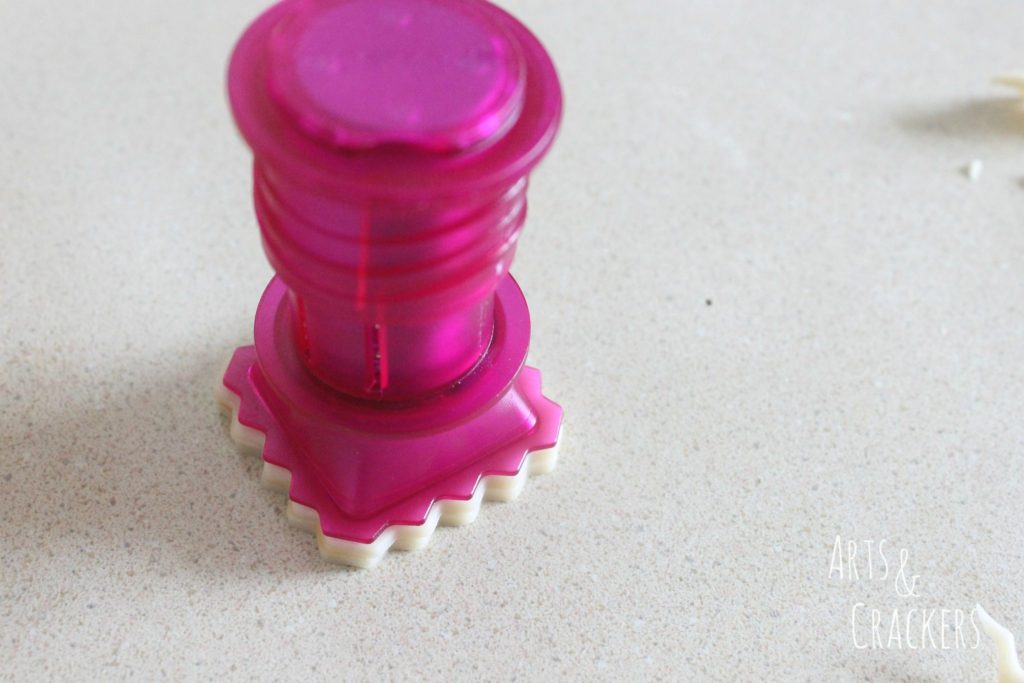 Set another piece of ravioli-shaped pie crust on top and gently press down the edges then use the ravioli maker top to seal the deal. If the filling oozes out a little, that's okay, but don't let too much get out or let the crust rip.
Bake the ravioli pies on a baking sheet at 350°F for 10 minutes.
I placed the ravioli in a pie tin instead of on a plate to make eating them a little bit more fun.
Toast a handful of chopped walnuts in the oven for a few minutes.
In a saucepan or microwavable bowl, heat up a scoop of vanilla ice cream until melted (I love the regular vanilla, not french vanilla, with specks; it looks like alfredo sauce.).
 
Plate your pumpkin pie ravioli, drizzle on the melted ice cream, and sprinkle on the toasted nuts.
This pie recipe is such a delightful play on classic pumpkin ravioli and it is simple to make! Serve it at your next family function. You could even make the ice cream sauce a dipping sauce and serve the ravioli pies as finger foods!
See the "Get Ingredients" button on the recipe below? You can use this to have the ingredients sent right to you via popular home-delivery grocery services.
 

Pumpkin Pie Ravioli-Inspired Dessert
If you wish to use full cans of the ingredients below, you can double everything then refrigerate or try freezing the extras for later.
Ingredients
2 eggs, beaten (separately)
¼ cup sugar
1 teaspoon pumpkin pie spice
¼ teaspoon salt
½ can pumpkin
½ cup evaporated milk
2 refrigerated pie crusts
1 scoop vanilla ice cream
Chopped walnuts (optional)
Instructions
Whisk together one egg, sugar, salt, and pumpkin spice seasoning.
Whisk in the pumpkin until smooth.
Slowly add the evaporated milk. Refrigerate.
Dust your counter top with flour and roll out the refrigerated dough. Let sit a few minutes.
Dust the top of the dough with a little flour and rub flour onto your rolling pin, then roll the dough flat and thin.
Cut ravioli shapes from the dough.
For the bottom pieces, brush a little beaten egg around each raviolo (not the center) then scoop or squeeze a small amount of pumpkin pie filling into the center.
Carefully place and press down the edges of another raviolo shape on top of the bottom piece then use the ravioli maker tool to press down and seal the top.
Bake at 350 degrees F for 10 minutes.
Remove from oven and let cool a few minutes then move it to a plate or pan.
Toast chopped walnuts on the pan for a few minutes.
Melt a scoop of ice cream then drizzle over top the ravioli and sprinkle on the walnuts.
I'm working to perfect another version–hopefully that will happen soon so I can share with you!
Read also: Homemade Cookie Cutter Ravioli and Frozen Strawberry Cheesecake Bites Recipe
I would love to hear from you in the comments below–Do you love pasta? Pie? What's your favorite pasta or pasta-like dish?