While I really want to be that stereotypical Super Mom cooking every meal from scratch, keeping a clean house, always doing fun things with the kids, and being "pulled together" every day, it just isn't always feasible. Between karate and church and homeschooling and working at home and military and all the other things we sign up for (doesn't reading that just make you exhausted?), I just don't have the time to do everything from scratch.
But I am still a Super Mom in another sense of the word, and I will share my secrets to being Super Mom with you. Here's how to be Super Mom when you are super busy (and very human). Seemingly having it all together and taking care of your family on a busy schedule is more achievable than you may think.
I hope you love these tips!
Did you know that you can be Super Mom without being perfect at everything?
Not everything has to be homemade. Things don't always have to be pulled together; sometimes things can be a bit chaotic and you can still be Super Mom (trust me, I have plenty shortcomings.).
I feel a lot of times we are too hard on ourselves and fail to realize this. In fact, you might even find out you're already Super Mom.
People really do think I am Super Mom, including my children; here is the nitty-gritty, real, and honest way that I (and you) can make that happen.
Be a Less Stressed Mom (and still a Super Mom)
Serve Easy Dinners
Maybe you expect me to share some of my fast recipes here, because I really do love to cook. Maybe you expect my amazing meal plan and meal prep suggestions, because I've shared them in the past. But the honest-to-goodness truth is that I often don't have time for all that.
The boys get bored with the same quick meals over and over, as do I. Sometimes I can manage to find time to meal prep and plan, but with 4-5 days out of the week being so jam-packed that we have no time to sit around and relax, homemade meals don't always find room on my plate.
One way I am able to continue to provide nutritious and delicious meals is by offering my family frozen dinners. Marie Callender's Delights are meals my whole family enjoys–no cutting up vegetables, no cleaning up chicken juices, no loads of extra food prep dishes to wash; all I have to do is place the pre-made meals into the microwave or oven and they will be ready to plate and serve.
Heads up! If you like to save money, you can get $0.50 off through Ibotta when you purchase one of these Marie Callender's products!
(If you aren't signed up for Ibotta, feel free to include my referral code:fve7nq.)
We have been working towards a healthier lifestyle and eating out a little less, and Marie Callender's Delights are a great way to squeeze in a semi-homemade, nutritious meal without having to put a ton of energy into it. The Panko Herb Crusted Chicken with Multigrain Medley is so good. It has a ton of protein, no artificial flavors/colors/preservatives, the chicken is raised with no added hormones, and it's loaded with fluffy quinoa and delicious vegetables.
Go Ahead, Have Dessert
With an easy dinner, we even have time for dessert! It feels so good to be able to eat dessert after your meal, doesn't it? It's like the trophy for a job well done.
Dessert doesn't have to be incredibly sweet or complicated. Marie Callender's Loaf Cakes are a delicious option that is also very flexible. It can be enjoyed plain, topped with fruit and whipped topping, drizzled with chocolate or icing…let your children decide what toppings they want to try out!
We did a super easy topping for ours–we just thawed out some sliced strawberries then scooped them on top and added whipped topping to make strawberry shortcakes, which also helped the boys get another serving of fruit.
Multi-Task
Moms are pretty great at multi-tasking, aren't they? You don't need to multi-task too much, but there are several easy ways we Super Moms can multi-task to get more done in less time with less effort.
While your Marie Callender's Delights are cooking, you can get the kids ready for their sporting event, making sure all their gear is by the door and ready to go, they are cleaned and clothed, and they've picked up some toys.
Let your kids help you set the table while the loaf cake cools then give them the opportunity to pick out what toppings they'd like on it. Have everything ready for plating once the food is finished cooking.
Want other great multi-tasking opportunities? Try these:
Use bath time to discuss meal ideas with the kids or talk over what needs to get done that week.
Squeeze in some exercise by doing squats while you dry your hair, lunges down the hallway, and lift the laundry basket up and down while you walk to work out your arms. Run in place while you finish waiting for that timer to go off and do a few push-ups off of the counter. I know how challenging it can be to fit an actual workout routine in your schedule, but you can fit workouts into your daily activities throughout the day and you will have more energy because of it!
Watch your favorite show for a "brain break" while you fold laundry.
Write your to-do list while you get ready for the day (if you're like me, you remember pretty much everything while you're in the shower or putting on makeup…).
Cook your dessert loaf while everyone enjoys dinner (rather than cooking it ahead if you don't have the time).
Have a Plan
Having a plan is so necessary for fitting the role of Super Mom. I am known to be a "hot mess" mom where life is a bit haphazard, but usually I have some sort of plan or structure that helps out a whole lot.
Plans can be incredibly helpful in keeping things in order and making sure you to use your time wisely.
Here are some of the best areas of life to make plans in:
Meal planning: this doesn't have to be as challenging as we [I] usually make it, and yes, it is totally cool to put Marie Callender's Delights on your meal plan…use these for your busiest days of the week.
Events of the week: I have a planner where I write down solid events for the week, from school to karate to various other activities we know we will be participating in.
To do today/this week: everywhere I go I carry along what I call my "Brain Book." Nowadays people call these bullet journals, but I still keep the name "Brain Book" because it is where I dump all of my ideas I need to keep track of, from a checklist for what needs to be done today to what needs to be completed by the end of the week to new projects I need to make time for with the kids. Without this book I'm not sure I'd get much done.
Get ready the night before: take a shower at night so you have less to do in the morning, set the kids' clothes out so they know exactly what to change into when they wake up, and have your "to do" list ready to go.
Delegate Tasks
It's important to multi-task. It's important to plan ahead. It's also important to know you can't do it all on your own. Delegate tasks to your family.
Here are some fun areas the whole family can get involved in helping:
Putting away laundry (I know it's hard to get help folding, but it's good to have a rule that everyone puts away his or her own laundry at the very least.).
Loading the dishwasher (Do you use your dishwasher? Let others help you load it! Picky about where things go? Create a diagram they can follow.).
Setting the table (Not every place setting needs to be perfect with a placemat, folded napkin, and a butter knife with the serrated edge pointed towards the plates, but even just having the family choose dishes to use and pull them out to the counter or the table is one less thing you have to do.).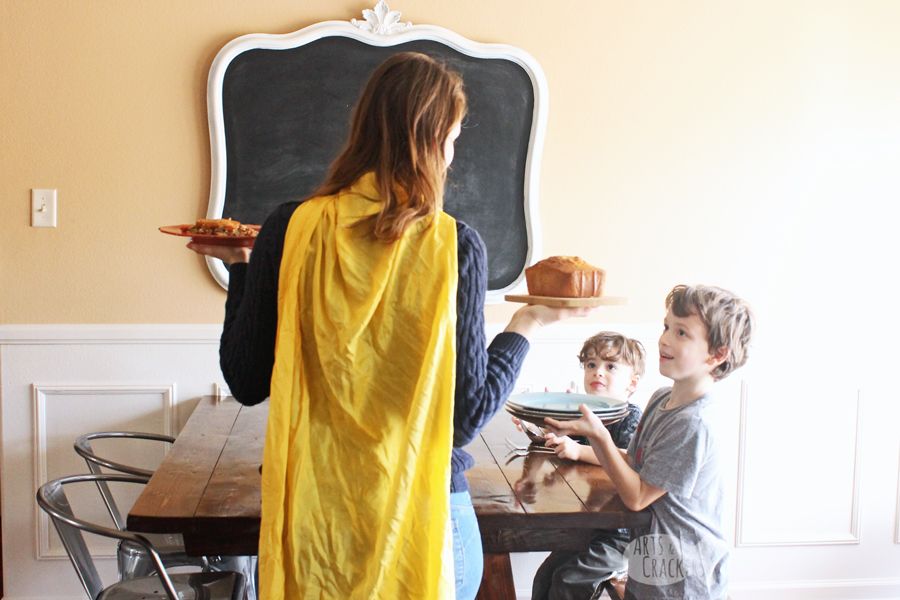 Skip the Store
I'm a mom too. I know how going to the store can be. Did you know that Walmart lets you order your groceries online and pick up in store? Whew can this be a time-saver. I braved the store today on a whim…it was…fun, you could say…. All I could think about the entire time we were there was that I should have ordered for pick up (I will next time!). Try it out sometime. You can find out on their site if it's available in your area.
Take Care Of You
This might be more for me and less for you, I don't know, but taking care of me is something that I really struggle with. It doesn't have to cost much. It doesn't have to take a lot of time. But taking care of you is something completely important to being a Super Mom (and to your sanity).
One simple way to take care of yourself is to avoid cooking a meal from scratch if you don't have the energy. Seriously. I keep freezer meals on hand for days like this. It helps us to eat well at home and it takes very little effort on my part so I can just relax or have fun with the kids while it cooks. You can find a list of other ideas I've shared previously here.
Let It Go
Is the song stuck in your head? I won't quote it, but you get the point. Let this be a constant (and echoing) reminder that it's okay to let things go. The house isn't perfectly clean? Let it go. Dinner isn't homemade? Let it go. The kids are in slightly…strange…outfits? Let it go.
Stress can make you a mess. Trust me. I deal with this on a daily basis and am always reminding myself to "let it go" and achieve "less stressed mom" status. There is really no need to feel guilty about a mess in your very lived-in home, a carefully-thought-through frozen dinner on the table, or your children expressing themselves in their [bizarre] outfit choices.
I am big on letting my boys dress themselves. Sometimes I will set rules (no shorts when it's freezing out, don't wear all tops and bottoms the same color blue), but for the most part this is one area that I just let go. It makes them happy and it's less for me to worry about.
When you can, make dinner. When you can't, grab a Marie Callender's Delights meal. Plate it nicely. Let the kids help with setting the oven and timers for cooking so they can be involved.
You're still getting the nutrition you need while saving your sanity.
If you really want the house to look cleaner, set out bins for everyone's items. Just toss the items in the bins to get it off the middle of the floor. It can be gone through later or come right back out and it'll look "good enough." Most fellow parents can totally relate to a messy home. It's okay; it's really okay (she reminds herself as she looks at the Christmas decorations the kids scattered across the living room)!
PS, I didn't get a shower before I took these pictures of myself. I got up, got dressed and ready for the day, and said that's "good enough" and let it go. I also caught a cold, so it was one of those "convenience is key, taking care of me" days–frozen meals for the win again! And do you know what my son said when he saw me with the less-than-homemade food, looking as plain as can be, acting perhaps a little bit crabby from my cold, but just doing my best? He said, "You really are a Super Mom!" (and he wasn't just referring to the cape.).
Through all of this, just remember that being Super Mom really has nothing to do with being perfect. It's so easy to feel like you aren't doing a great enough job and you can't possibly be a Super Mom–that feeling that somehow all you do isn't good enough. It's simply not true.
You can be Super Mom with a mess in your house. You can be a Super Mom and serve frozen dinners. You can be a Super Mom even when you're super busy.
Give yourself a break. Skip that shower in the morning and just toss your hair up in a ponytail and add a dab of makeup and some deodorant. Serve a frozen meal for dinner. Let your family help you out. Toss all the toys and paperwork in bins to go through later.
Being a Super Mom isn't impossible. You don't need super powers. You don't need to lose yourself or your sanity to be Super Mom. You don't need to attain perfection (honestly…that's impossible). You can be 100% human and a Super Mom.
Just love your family, do your best, find ways to manage even when things are busy, and give yourself a little leeway for convenience here and there for sanity's sake.
You're doing a super job, Mama!
Read also: 10 Laundry Hacks and Tips Every Mom Needs and Why I Clean the House Every Night and Practical Life Skills for Kids | Sock Activity (and Mom Hack)

Looking for more? View these categories!