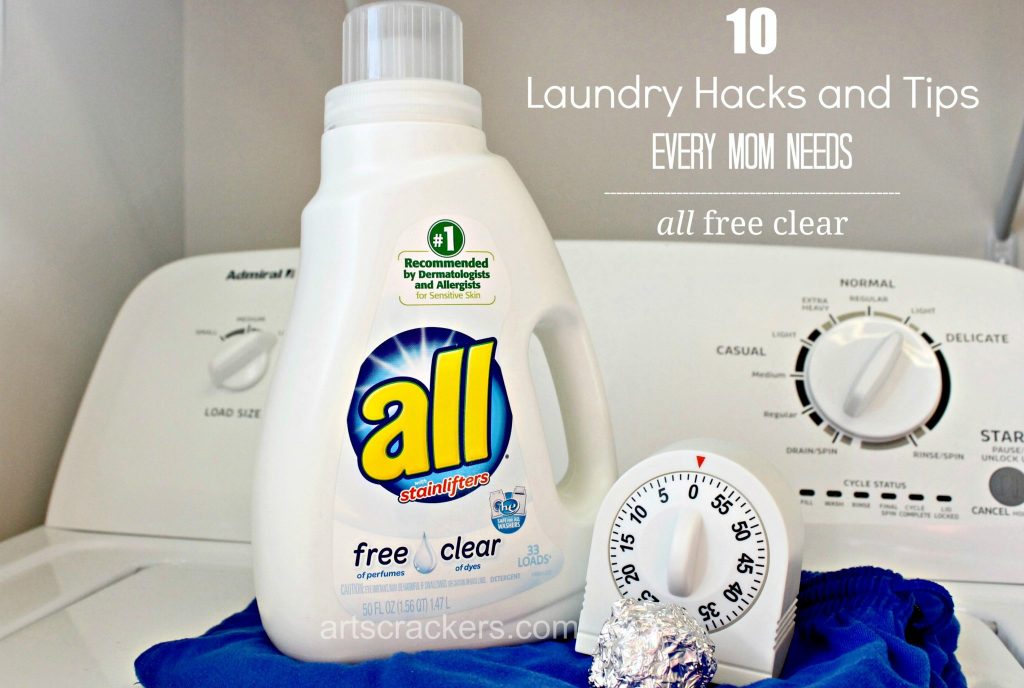 Laundry is often one of those tasks that piles up because no one wants to do it. Trust, I know that feeling all too well. I want to share some of my laundry hacks with you to make your busy life a little easier from washing with detergent for sensitive skin to when to fold.
1. Sort Your Colors Ahead
Ok, so this one may not be my strong point, but in order for your clothes to last longer this step is key. One way that you can make the sorting process a little easier is by turning it into a game for the family or using it to help teach your children color groups (white, light, dark, reds, etc.) and having them lend a hand.
When sorting your colors, you can do it right before doing the wash, but the best idea is to always having a few bins to sort your colors as you are finished using them. This way you can do the wash quickly without having one extra step. Label these bins and make it a family rule to sort into the correct bins. As your children are learning to sort and be responsible with their laundry, you can even give small rewards for sorting correctly.
2. Add Bright Blue to White
Did you know that adding one bright blue article of clothing can actually help your whites stay whiter? How cool is that?! This is a great option to use if you cannot use the dyed laundry detergent but can wear blue-colored clothing.
3. Wash Sheets Separate
It is very tempting to add clothes in with your sheets and blankets, but I advise to do them separately. One reason for this is that you can use hot water for sheets to give them a deeper clean and I advise against this for the rest of your clothes. The other reason is that the sheets and blankets are so big they will take over, causing your clothes to become wrapped up inside. This causes them to not get as clean as they should in the washer and often stay damp in the dryer.
4. Use Cold Water for Clothes
While I use hot water for sheets, I use cold water for the rest of our clothes. This will allow for a gentler wash, will preserve the colors better, and help prevent shrinking.
5. Utilize Your Calendar/Planner
If you do not have a laundry schedule, it is very difficult to keep up and have a nice routine. When I deviate from my schedule, I end up with mountains of wash loads that I don't have time to tackle. This can actually cause you to feel the need to buy more clothing because you feel you have less to wear than you actually do, so a good schedule to keep clothes clean can even save you money!
The schedule I have been working to create is one that allows me to do at least one load a day if needed (or every other day depending on how many clothing, bedding, towels, etc. my kids go through.) I then have Sheet Saturday when I will wash all the sheets and Wash Up Wednesday when I will wash all the towels and as many loads of laundry as I can. You could even do Towel Tuesday. I write these down on my calendar/planner.
6. Cater to the Whole Family
I am not saying let others control you, but let their needs determine your routine. For instance, I have sensitive skin and bad allergies so I cannot handle a lot of scents in the wash. Because of this, I have to use all free clear detergent while the rest of my family can handle the scented versions. We also use this detergent for baby clothes.
Since I am the one doing the laundry and all our clothes is combined usually, I stick with the free clear detergent for the whole family. If there are loads separated from mine and my husband is the one doing the wash, sometimes he will use the scented detergents, but for the most part we cater to the whole family so we are all free to be happy and healthy. It also saves me the step of switching up different detergents every time or having to re-wash clothes that are too strong-smelling for me.
7. Use a Kitchen Timer
Remembering that you have a load in the washer and/or dryer is one of the biggest causes of having to re-wash loads over and over, throwing off your nice routine and causing you more stress. To avoid this, find out how long the washing machine and dryer will take on the settings you are using and set a timer to check on it as soon as it finishes. The more quickly you finish the task, the smaller and easier the task seems.
8. Add Tinfoil to the Dryer
A tip that my grandma found a while back was to create a ball from some tinfoil and toss it in the dryer. This will act as a very effective (and inexpensive) way to prevent static.
9. Fold and Put Away Immediately
One thing that I have found can be the most detrimental to finishing the task of laundry is not folding everything and putting it away right away. When you allow that pile of clothing to sit, maybe even pull from it daily for your wardrobe, that pile will only grow, stress you out when you look at it, and cause your clothes to get wrinkly which can look sloppy.
10. Enlist Your Family
Your family can help you through the different steps of the laundry process. For instance, my kids help put their clothes in the dirty hamper, then in the washer, then help put clothes away when it is all said and done. My oldest even helps me sort the socks to find the matches and can even fold some simple items like towels and kids' pants. My husband is a huge help with laundry and we take turns with it, plus he is often the muscles who brings the loads up and down the stairs for me.
all free clear products are 100% hypoallergenic and have received the National Eczema Association (NEA) Seal of Acceptance which indicates the products are free of certain chemicals, dyes, perfumes, and residues that cannot be used for those with eczema or sensitive skin. It is the #1 detergent recommended by dermatologists, allergists, and pediatricians for sensitive skin.
There are many different products in the all free clear lineup, all safe for standard HE machines, including the following:
detergent (various varieties)
fabric softener
dryer sheets
Click here to take an additional brief survey to help all free clear brand.
-What's your top laundry hack?