I absolutely love syrup. Pancakes and waffles are always a hit in our house and, oh, spreading on some butter and drizzling some nice, warm syrup over the top is one of the best ways to make your breakfast an inviting breakFEAST. Since syrup is, well, amazing, I decided to share a list of breakfast recipes with pancake syrup.
As a participant of the Hungry Jack Ambassador program, I've received compensation for my time and product samples for review purposes. Opinions are my own. We love syrup and I am excited to share these delicious breakFEAST recipes with syrup.
In this house, we enjoy serving Hungry Jack pancake syrup in their convenient microwavable bottles that are specifically designed to fit in the microwave. They are so easy to heat up and the easy pour cap makes it possible to add the perfect mess-free drizzle to any dish, and the handle makes it easy to grip the bottle and not get sticky fingers.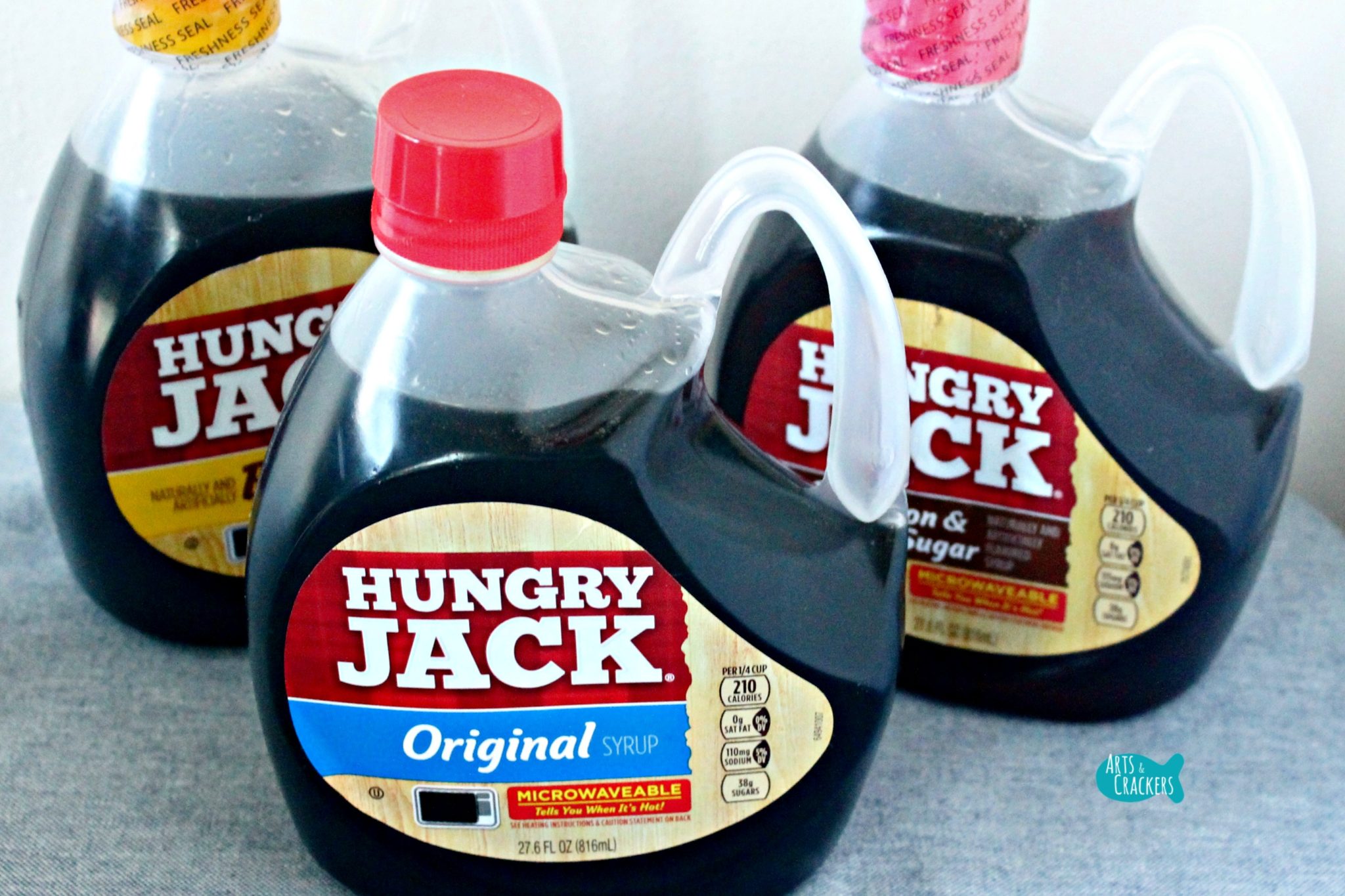 While we typically only use pancake syrup for our pancakes and waffles, there are so many ways Hungry Jack pancake syrup can upgrade breakfast to breakFEAST for the whole family. I asked some other bloggers for their favorite recipes to make with pancake syrup in addition to the ways we use ours.
Breakfast Recipes Made with Pancake Syrup
In Oatmeal
My husband holds a special place for warm pancake syrup. When I was talking to him about this post the other day, he relayed a childhood memory and I had to share. He remembers they had delicious breakfast dishes often and he always loved having some warm, sweet pancake syrup added to his plain oatmeal for a yummy maple flavor.
Try adding in some diced apples and walnuts, maybe even some chia seeds or quinoa.
In Coffee
Instead of adding sugar or flavored coffee syrups to your morning cup of joe, try adding a drizzle of Hungry Jack pancake syrup for sweetness and flavor.
In Butter
Whip some Hungry Jack pancake syrup into butter for a delicious, spreadable topping.
On Sausage
Maple-flavored sausage links are a favorite of mine. Whether you're having a breakfast patty or sausage links, add a little pancake syrup to make them breakFEAST worthy.
On Pancakes and Waffles
This one is pretty obvious, but we absolutely love serving our waffles and pancakes with Hungry Jack pancake syrup. They are an essential part of any breakFEAST. A fun way to serve your pancakes is to add some crumbled up bacon and drizzle syrup over the top. Maple bacon pancakes (see them in my Farmhouse Breakfast Party post.). Yum!
We love making Hungry Jack waffles in our Oster® DuraCeramic™ Stainless Steel Flip Waffle Maker (it is awesome–no need to use non-stick spray!). Then we heat up some Hungry Jack syrup in the microwave and drizzle it over all over the waffles, filling up the handy little syrup compartments.
Drizzled On Fruit
Add a little pancake syrup to fruit and you can even add a little melted chocolate–YUM! Bananas, strawberries, and pineapple are delicious for this.
In Breakfast Casserole
Here are a few breakfast casserole recipes to try out:
In Granola Bars
Here is a fun granola bar recipe to try out:
In Desserts/Pastries
Here are some sweet recipes to try with Hungry Jack pancake syrup:
In Savory Sides
Here is a savory breakFEAST-worthy dish that incorporates sweet syrup:

Visit the Hungry Jack website and find them on Facebook.

What are your favorite breakfast foods? What are some fun ways you enjoy Hungry Jack syrup? Share with me in the comments! I'd love to hear!

Read also: Farmhouse Breakfast Party Theme and Menu Ideas and Quick and Simple Lemon Pastries Recipe





Know someone who would love this? Hit the "share" buttons below! Be sure to follow Arts & Crackers on Facebook, Twitter, Pinterest, Instagram, or the others at the top right!