Breakfast. Have it in the morning, have it as brunch, make it for dinner. There is never a time that is not good for breakfast, so when we told my husband's class we were hosting a farmhouse breakfast party, they were on board!
As a participant of the Hungry Jack Ambassador program, I've received compensation for my time and product samples for review purposes. Opinions are my own. I really am excited to partner with one of my favorite brands and love how the farmhouse breakFEAST party came out.

This Farmhouse breakFEAST Party turned out wonderful. The decorations were simple and delightful and really fit our pancake breakFEAST. Everyone loved the breakfast food and it turned out to be the perfect grown-up party spread.
You too can host a breakFEAST for All-American Breakfast Month in September! The party theme and menu break-down is below.
Did I mention how much I adore this farmhouse breakFEAST party theme?
Farmhouse Breakfast Party
The Theme & Decor
My home is already decorated in a country/farmhouse style, so I simply pulled that style into our party decor.
To highlight breakfast, we served a whole variety of breakfast foods for our farmhouse breakfast party. When I think of country and farmhouses, I think of good old-fashioned breakfast with everything you can imagine: loads of pancakes, waffles, biscuits with gravy, sausage, bacon, eggs, potatoes, muffins, pastries. I decided to do exactly that as my menu.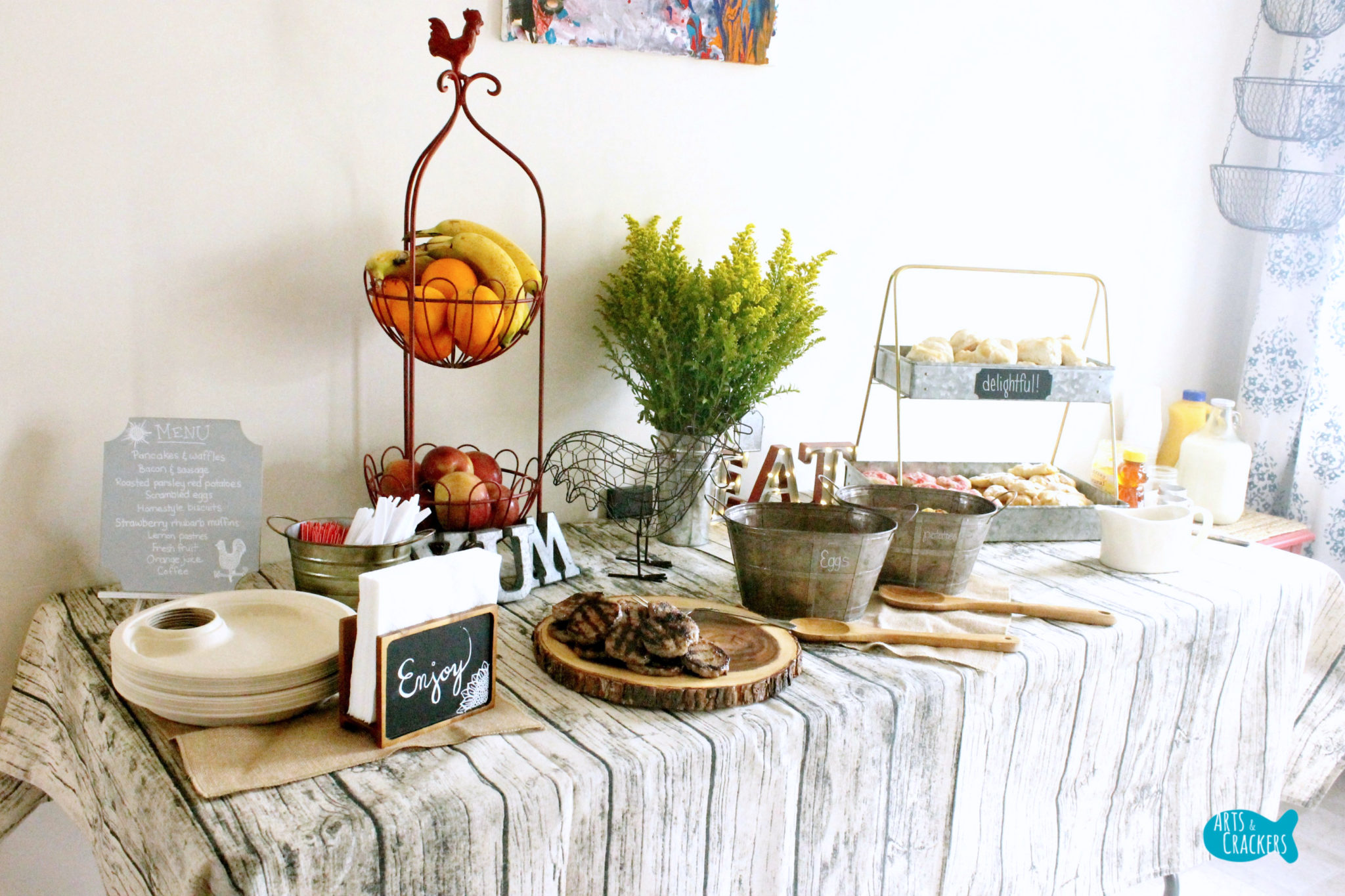 I kept the decorations fairly simple. Truth be told, I sold our table out of the blue, so a cheap plastic table was all we had; this wood-patterned tablecloth dressed it up perfectly for our farmhouse breakfast party theme.
Farmhouse textures like wrought iron baskets, metal buckets, burlap, wooden slabs, chalkboard, and galvanized steel graced the tablescape.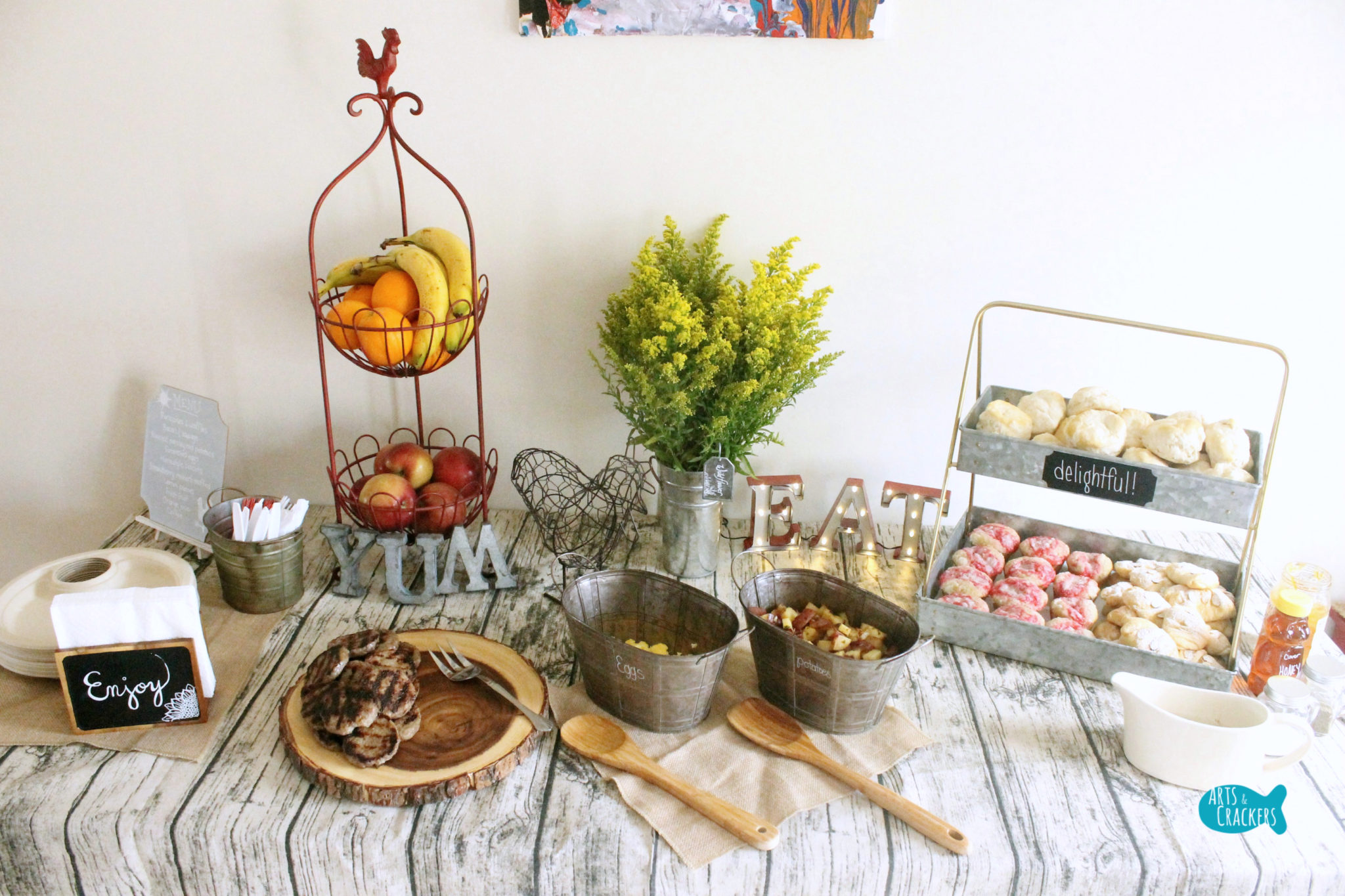 Reds, blues, and yellow-greens brightened the table. These flowers reminded me of wildflowers (we do not really have wildflowers by us, but I found these in our local grocery store's flower department and they were perfect!).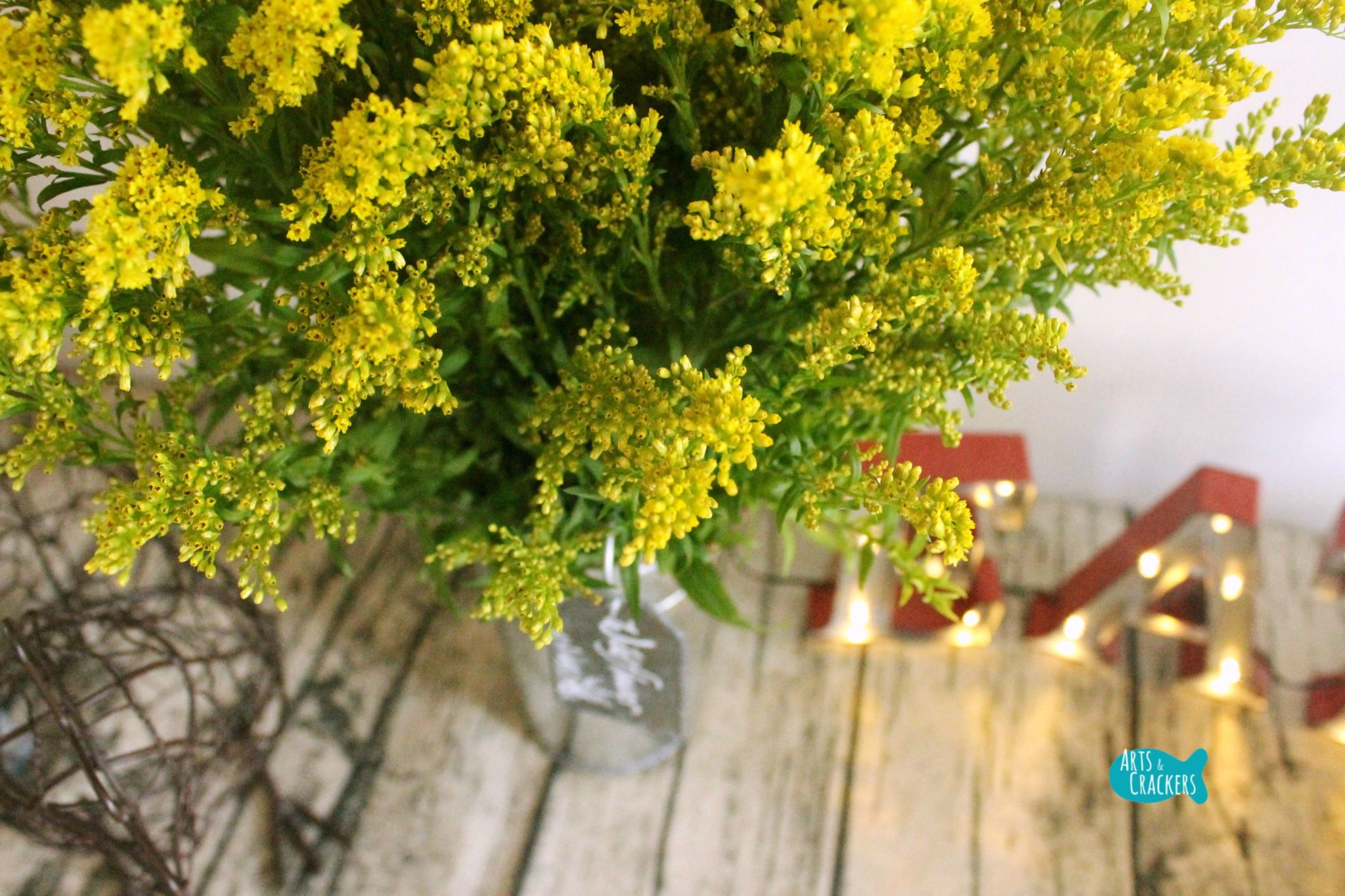 Fun words that encouraged our guests to "feast" were displayed around the table– words like "YUM" and "EAT"; I also used my chalkboard labels and a chalk pen to write "DELIGHTFUL and "ENJOY."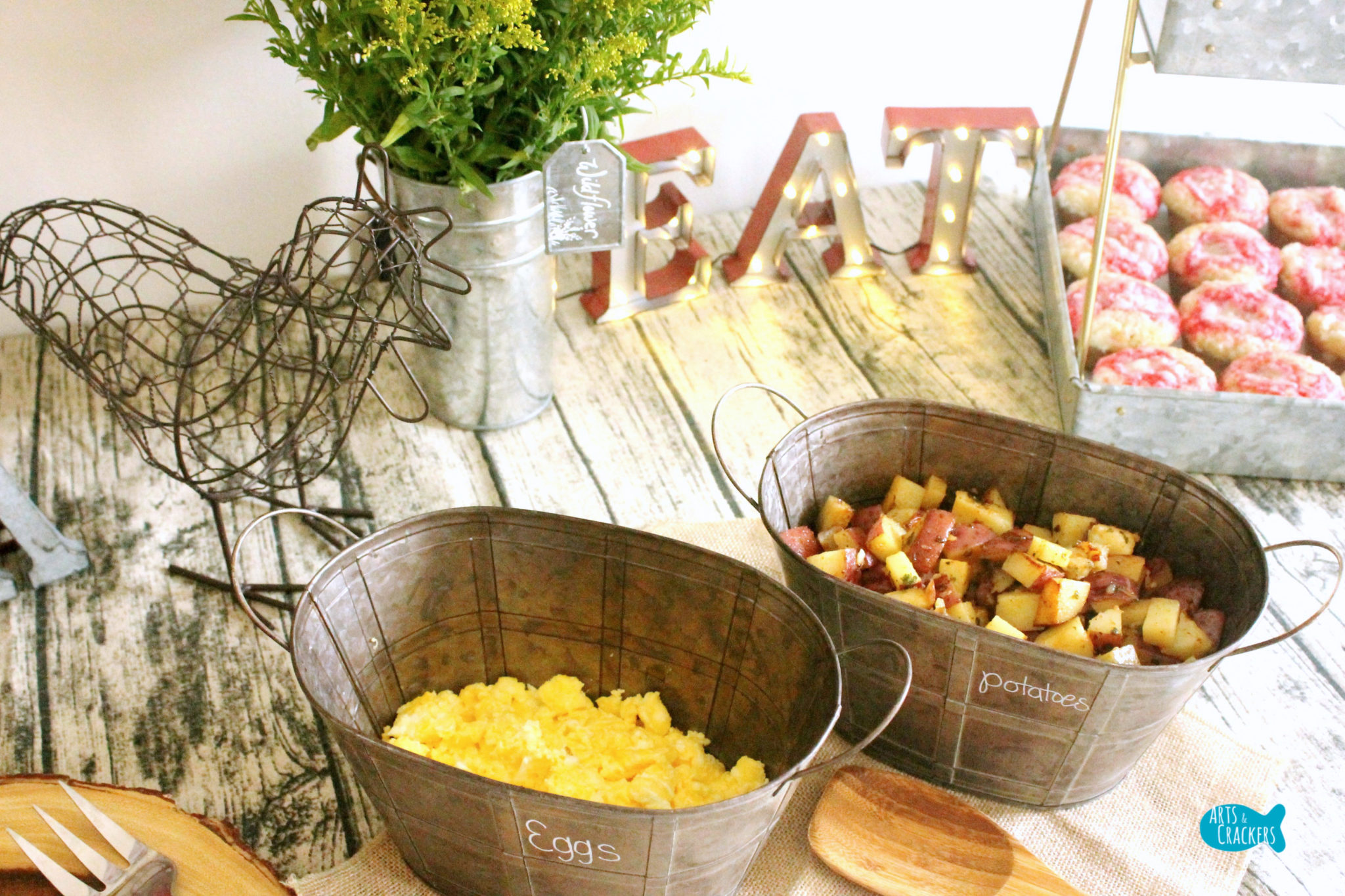 For the flowers, I found a metal garden marker and wrote "Wildflower" with the chalk pen; it was the perfect touch. Cut off a few sprigs of the flowers and place them in mason jars of water; these make great table centerpieces.
To conserve table space while making the display more appealing at multiple levels, I utilized some tiered serving trays for the fruits and for the baked goods. I also added some buckets and flat plates.
Just for fun, I also hid a picture of a cow (I cut it out of a cute card I'd received) on the canvas E painted.
The Food
Rather than label each individual item as I had originally planned, I created a farmhouse breakfast party menu that listed everything that was being served. I used a cute stand-alone chalkboard easel with a chalkboard pen.
Our main attraction: Hungry Jack pancakes and waffles. No breakfast is complete without warm, hearty pancakes and waffles. This is our favorite brand. Seriously. We serve Hungry Jack products at breakfast, lunch, and dinner and our pantry is always stocked! Our guests loved it as well.
The fluffy pancakes and waffles were made on the spot and somewhat "to order" so they were fresh and warm, though we had a plate of extras for our guests to help themselves. We used the fabulous Oster Titanium Infused DuraCeramic™ electric griddle with warming tray and stainless steel flip waffle maker. These were a huge hit with our guests too and made our pancake and waffle making so quick and easy. They are the perfect small appliances for parties. I could talk about them all day long. We will definitely make even more Hungry Jack pancakes and waffles on a regular basis, thanks to these products. So easy to use.
We made fairly small pancakes this time around. For a smaller group we would make large pancakes, but this time my husband really wanted to try his nifty pancake mix dispensing gadget and it made these fun party-sized pancakes!
Our pancakes and waffles section offered a variety of delicious toppings to personalize each plate: butter, Hungry Jack syrup, blueberries, chocolate chips, sprinkles, whipped topping…we even had honey, marmalade, and bacon set out on the other table if guests decided to use those. Most went for the syrup with some blueberries or butter–delicious. Pancakes are so filling and the smell alone can warm the atmosphere. Pancakes make a great dish to serve for both the parties with your close loved ones and the parties with people you hardly or don't even know, because they get the conversation started.
Did you realize Hungry Jack syrup came in so many flavors? I am excited to try out the cinnamon and brown sugar syrup. What's better than some fresh pancakes and warm maple syrup? Hungry Jack's syrup bottle is uniquely designed to fit in the microwave, so our guests could savor each delicious, warm bite. With an easy pour cap, Hungry Jack syrup ensures less mess for your breakFEAST.
The menu consisted of several homestyle sides to go with our Hungry Jack pancake and waffle bar.
Bacon and sausage, naturally. While the pictures only show the sausage patties, we did serve sausage links and bacon. Those were still heating up and our guests were ready to eat, so I snapped a few pics and let them dig in! We made sure this whole plate was full for them and refilled it as well.
Scrambled eggs. Making scrambled eggs has always been something I've felt successful at, ever since I learned how to make them on a camping trip for Girl Scouts. These were a staple item and so quick to make, but they were gobbled right up–the perfect addition to any breakfast party.
Roasted Parsley Red Potatoes. This recipe is actually from my website. I have been wanting to make it again and it is super easy so it was perfect for our farmhouse breakfast party. The less hassle, the better! The recipe is my take on home fries. So good. I'll be updating this recipe soon!
Fresh fruits. We offered McIntosh apples (which remind me of my childhood picking apples from the tree), oranges, and bananas.
Biscuits and gravy. We knew we needed some quick biscuits and gravy (or honey or butter for those who preferred that) for our country-style farmhouse breakfast party, so we were sure to include those.
Breakfast sweets. This was to be a farmhouse breakfast party feast so I served a full course, including dessert (even though they are still breakfast items.). I made my "famous" Strawberry Yogurt and Rhubarb Muffins and my super quick and simple Lemon Pastries. You can find both recipes on my site.
Beverages. We served cold milk that I placed into a large glass jug (I had previously purchased it with apple cider in it then cleaned it out when it was empty), added a pitcher of orange juice, and put on a pot of hot coffee. Liquid creamer was offered in a milk glass and sugar was offered in a mason jar, to fit the farmhouse breakfast party theme.
The Guests
My husband is going through a leadership course right now, so we decided it would be a wonderful idea to invite his class over for the farmhouse breakFEAST party. The group that showed was just the right size and everyone had a blast. We polished off nearly all of the food during our feast; whatever wasn't, my kids finished off later that evening–they literally each brought two fists full of Hungry Jack pancakes with them to the store and ate them as we shopped.
Hungry Jack products were perfect for both our adult and children guests.
When our dining was through, we decided to do a group activity. Apparently my husband had challenged one of his classmates to one of our video games–they pulled out the classic children's movie karaoke game and the room was full of adults singing children's songs. It was awesome and full of laughs–the perfect way to end a successful, filling farmhouse breakFEAST party.
The Plates
Delicious pancake topping ideas like these can turn a regular pancake breakfast into a breakFEAST: butter and Hungry Jack syrup, blueberries and whipped topping, whipped topping and sprinkles, Hungry Jack maple syrup and bits of bacon!
What are your favorite breakfast foods? What toppings do you enjoy on your pancakes and waffles? Share with me in the comments! I'd love to hear!

Read also: DIY Framed Burlap Wall Hanging and Cinnamon Apple Zucchini Muffins

Giveaway ended.
Go enter the giveaway (click the button below)

Sign up for my newsletter!
Know someone who would love this? Hit the "share" buttons below! Be sure to follow Arts & Crackers on Facebook, Twitter, Pinterest, Instagram, or the others at the top right!