LEGO® Kids Fest is coming soon to the Raleigh Convention Center in NC! The event will take place from February 28 and March 2, 2014 (more details and times to come in a later post.)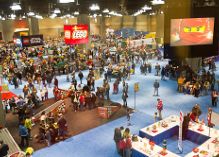 At LEGO® Kids Fest there will be a number of fun activities for you and your family to enjoy including a LEGO® Model Museum, a big brick pile, Race Ramps, LEGO® KidFest Marketplace, a challenge zone and so much more! This event will be great for LEGO® lovers of all ages!
Now you have a chance to enter to win 2 free admission tickets to LEGO® Kids Fest for opening day at Raleigh Convention Center, NC on Friday, February 28, 2014 from 4-8:30pm. This will be a quick giveaway and is specific to my blog so be sure to enter now! Giveaway winner will be chosen by USFG on Monday, February 3, 2014 and they are in charge of notifying the winner by email and getting out the prize.
ENTER HERE for your chance to win!
LIKE and Follow LEGO® Kids Fest on Facebook, Twitter, and Pinterest!
Tickets can be sold out at any time, so if you plan to go, be sure to order your tickets ahead of time online.
Disclaimer: This giveaway is sponsored by USFG and LEGO®. Arts & Crackers is not responsible for winner selection and prize delivery.