This Mexican Mac and Cheese Recipe turned out so good! Our church small group, while we were meeting in person (pre COVID-19), would have theme dinner nights. One that came up a lot was Mexican Night. I always try to bring something different, and I was just craving macaroni and cheese, so I decided to create this mac and cheese with a Mexican flavor-inspired twist.

This post contains affiliate links; by purchasing through these links, you help support the family behind Arts & Crackers at no added cost to you! Thank you!
As someone who grew up in Wisconsin, I love cheese. I'm probably not supposed to eat as much as I do, but, I mean, it's cheese…. The area I grew up in had a large Hispanic community and I always loved the Mexican food and the flavors that we had at our potlucks.
This Gluten Free Mexican Mac and Cheese combines some of my very favorite flavors and has a delightful little kick to it (you can add more spice if you want to; I keep mine a little tamed for the sake of my family). You'll love this mouth-watering twist on a classic!
When making this recipe with gluten free ingredients, keep in mind that gluten free pasta can be finicky, and it is very easy to get an unpleasant consistency. To avoid this, have all of your ingredients prepared ahead of time and cook the pasta using the tips in the recipe. If you are using regular pasta, you have less to worry about when it comes to texture.
Gluten Free Mexican Mac and Cheese Recipe | Creamy Macaroni with Mexican Flavors
Ingredients:
3 Tablespoons salted butter
1-2 cloves garlic, minced
1/4 cup white onion, minced
1/2-1 jalapeño, de-ribbed/de-seeded/minced
1 tomato, diced
1 tomatillo, diced
1 green tomato, diced (optional — I did not use it this time for the pictures, but I have added it in the past)
4-oz. can fire-roasted green chilies (mild or hot)
1/8 teaspoon cayenne pepper
salt (to taste)
1 cup cheddar cheese, shredded
1/4 lb. white American cheese (sliced or shredded)
10-oz. Cacio Queso Fresco
5-oz. can evaporated milk
1-1 1/2 cups 2% milk
1/4 cup fresh cilantro, chopped
16-oz. package Barilla Gluten Free Elbow Pasta, cooked (you can also use corn pasta or regular pasta)
Here's how to make this mouthwatering Mexican Mac and Cheese Recipe:

1. As mentioned above, work quickly and have everything prepared ahead of time for best results.
2. Start boiling the water.
3. When the water is just about boiling, melt the butter in a separate large skillet or pot.
4. Add the garlic and onion to the butter and sauté for 3 minutes, stirring occasionally, until it begins to turn translucent.
5. As the garlic and onion cook, place the pasta into the salted boiling water and reduce to medium-high heat. *Cook this pasta 2-3 minutes less than the time on the package, stirring occasionally.
6. While the pasta cooks, stir the jalapeño, tomatoes, tomatillo, and fire-roasted green chilies into the onion and garlic mixture and sauté another 2 minutes.
7. Whisk in the cayenne pepper, salt, milk, and evaporated milk.
8. Turn down the heat. Slowly add the cheeses, a little at a time, so they melt and the sauce temperature is maintained, whisking until the sauce is smooth. The queso can take a bit to smooth out, so I add that first.
9. The pasta should be finished cooking at this point. You will want to drain the pasta immediately when it is finished cooking, then return it to its original pot until you are ready to add it to the sauce. This helps to maintain the pasta's consistency.
10. Stir the cilantro into the cheese sauce, then fold in the cooked pasta until coated.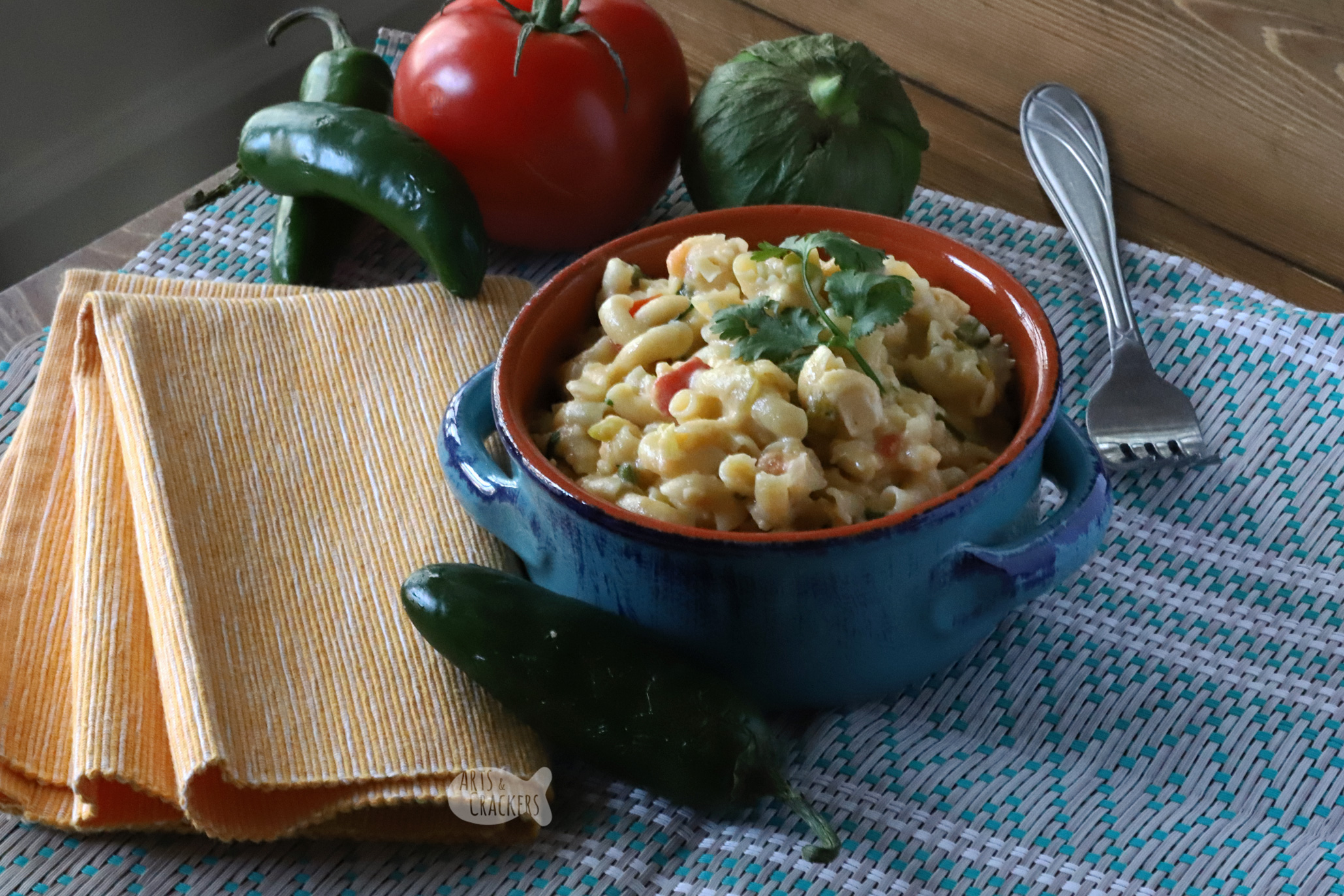 Read also: Fiesta Rice Chicken Taco Boat or Bowl and Black Bean and Corn Salsa
Looking for more? View these categories!