Leave it to my kids to ask for incredibly unique party themes, but I guess it can be expected, given the fact that I'm their mama. While this "Robots in Japan" party that E requested was definitely a challenge, I'm so happy with how it turned out! This was not only a Robot Party, it was also a Japanese Themed Party. At least the two can sort of go together, right?

This post contains affiliate links. By purchasing through these links, you help support the family behind Arts & Crackers at no added cost to you! Thank you!
>>Look below for our printable party package so you can host your very own "Robots in Japan" Party too!<<
In our quest for robot party decorations, I learned that robot decorations are pretty hard to come by. Because STEM and robots seem to be so popular, I was actually quite surprised by this! We decided we would do as much as we could handmake instead.
We threw a DIY Japan Themed Robot Party!
I will admit right now that this "Robots in Japan" party theme was not the cheapest party you can throw (though you can definitely find great deals and use our ideas as a starting place to make your own adjustments), but it was so much fun.
We did a lot of learning activities with the kids, because E wanted his party to be educational. I will share more about these activities below.
"Robots in Japan" Unique Party Theme | Robot Party + Japanese Themed Party
Honestly, I expected my child to choose either a robot party or a Japan themed party, but he was determined to combine the two. Thankfully, robots are big in Japan (and it makes sense…because "Domo Arigato, Mr. Roboto"), so the combination did not seem as crazy as some others may have been.
Here are some of our favorite party supplies for this Japan and Robot Birthday Party:
Japan & Robot Party Decor
Our Robot Party Decorations were pretty simple for this party, but it did require some DIY ingenuity. Most of the wall decorations you can make using the items in our robot printable party pack, just attach them with blue tacky putty.
We had a sign that said "Happy Bot Day" instead of "birthday." It was also written in Japanese! (The printable set will not come with your child's name, so I recommend making a small, custom sign with your child's name if needed. It does come with the extra page, should you wish to hand-write your child's name or attach die-cut letters.) We also had a birthday bot, some gears, and other robot-inspired printable decorations…even custom bathroom signs!
To make this look like a robotics factory, we cleared out everything we could, used a bare folding table with no fancy tablecloth (we did use a plastic tablecloth on the table we ate on so we could easily clean up for activities), covered some of the walls in roll-out vinyl tablecloth (which stuck on using only static electricity…so cool!), tacked some dryer vent ducting to the ceiling and walls, and stacked up some empty cardboard boxes.
I also made a dolly/hand truck using cardboard, a box cutter, and paint, and stacked empty boxes on top of that.
To display some of the food, I used a piece of pegboard with a piece of wood screwed into the bottom so it would stand upright. We attached it to the table using c-clamps. Foods were placed inside pegboard bins of various sizes, then labeled. I added double pegboard hooks to hold a candy scoop and a pair of tongs that would be used to serve up the snacks.
Robot & STEM Activities
Crafts and Coding Bracelets
Because E wanted his party to be educational, we offered a few easy activities for the kids. We had a table set up where the kids could build foam robot masks. We also had coding bracelets with instruction sheets!
Engineering Challenge Room
In the boys' room, we set up some tables and benches around the room and had stations with a variety of building tools (Magformers, LEGO DUPLO bricks, Lincoln Logs, wooden blocks, connectors, Brain Flakes, and much more). We stacked up a few painter's tape rolls to create a makeshift can and added wide craft sticks with a challenge on each side. These challenges would say things like "Build something that rolls" or "Build a rocket ship." The kids would pull them out at random and see what they could build with the supplies at hand.
Pin the Arm on the Robot
To get the kids moving and involved, we had "Pin the Arm on the Robot." This was a hit! We used decoupage glue to attach the robot (minus one arm) to a piece of poster board. We used more decoupage glue and tape to attach our printable robot face to a brown paper grocery bag with the opening at the bottom. The giant robot head was placed over the kids as they took turns blindly attaching the robot's arm back onto the board. Write each kids' name on their robot arm so you can remember whose is whose!
STEM Engineering Design Process Robot Activity
Another activity we planned on but ran out of time for (due to guests arriving at varying times) was a build-your-own-robot station where we would use boxes, craft sticks, pipe cleaners, and so many more recycled goodies to design and build our own robots using the STEM Engineering Design Process.
Robots and Japanese Themed Party Food
Most of the food we prepared did not end up making it into the photos as it was still cooking when guests were arriving (I need to work on timing!). Not shown were the different-colored spaghetti noodles that were meant to look like wires you might find in a robotics shop. We had a bowl of curly fries, because they looked like springs! We also had grapes (cut the long way) that we pretended were light-up buttons. To offer something fun and Japanese-themed for the kids to try, I also offered my favorite dried seaweed snacks, which looked a lot like motherboards we might use in our robots!
In the pegboard containers, I added Japanese Shrimp Chips as "Screws" (these were actually one of the most-enjoyed snacks), Japanese Meiji Bamboo-Shaped Chocolates as "Wire Connectors," Japanese Meiji Mushroom Chocolates as "Tacks," Japanese Seaweed Rice Crackers as "Electrical Fuses," Cheerios as "Washers" and gluten-free pretzel twists as "Wingnuts," cut-up pieces of cheddar cheese sticks* as "Nuts," and baby carrots as "Bolts."
*For the cheddar cheese "nuts," I used cheddar cheese sticks, cut them into little squares (not full cubes) then cut off a little from each of the four corners. I used paper straws to remove the insides so they looked like nuts!
For drinks, we offered the usual water and sweet tea, but we also purchased several bottles of Ramune Japanese Soda for the kids to try! This was one of my favorites when I was in Japanese class growing up, so I wanted all the kids to experience one of my favorite Japanese treats.
Sitting Robot Cake
Now, I normally do go all-out on cakes, but this one…takes the cake. I may have gotten a little bit carried away with the idea that came to me, and I just had to make it work. The finished product is not exactly what I had envisioned, but it is pretty close. I learned that I am very bad at doing tall cakes that need structure when it's a last-minute project. The head kept falling off, so I had to sit him up against some silver cake boards. So stressful! But so worth it.
I don't have a full tutorial on this right now (though I may try to give a quick walk-through in a separate post), but we used a combination of gluten-free cake and crispy rice treats to accomplish this.
If you don't have mad cake decorating skills, a stash of cake decorating supplies, and a ridiculous amount of time and patience, you can make a much simpler flat robot cake! Make just the head using a square cake pan, or make the whole body with cut-up cakes but leave it lying flat on the cake board!
Robot Party Favors and Japanese Treats
Because I'm that mom that really enjoys sending little goodies home with guests that made an effort to make my kids' special day a little extra special, we set up small gift bags with some goodies inside.
The boys helped me hand-decorate some inexpensive blue paper gift bags using construction paper. We made each bag look like a different robot, then I wrote "robot" in Japanese at the bottom of each.
Peek Inside the Bags:
Plus, the kids were able to take home the bracelets they built, an extra pair of disposable chopsticks, and those who didn't end up getting to try the Engineering Process Robot Building Activity were able to bring those instruction sheets home, too.
Here are some great gift ideas for your little Japan, STEM, and robot lovers: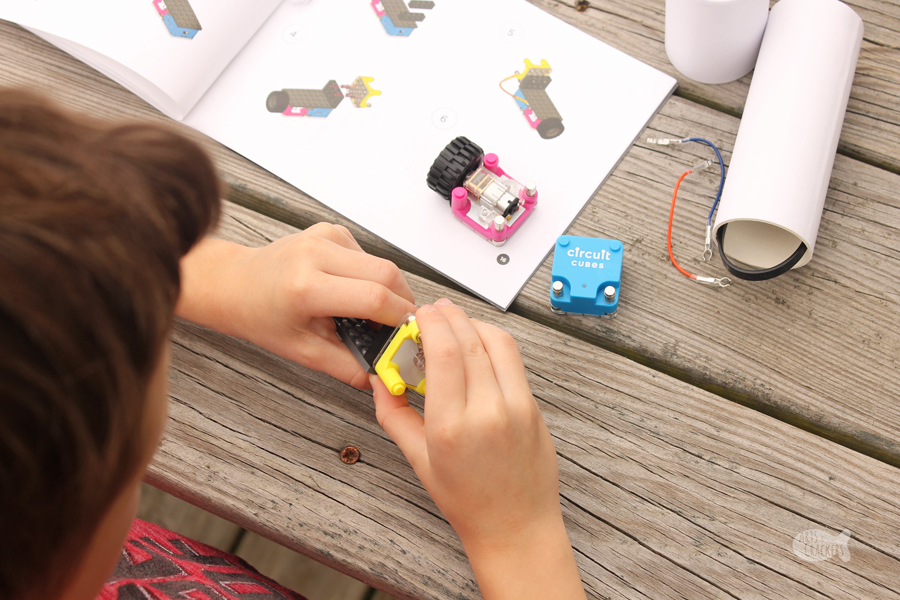 Print Your Own Party Package!
Our parties are always a hit, so I hope you are able to have fun with these ideas and use them to create your own memorable unique parties! Remember, parties don't have to break the bank, you can combine homemade with store-bought, and don't do so much that you completely lose your mind—your child will love whatever you create.
Read also: Our Favorite Engineering and Math Manipulatives for Kids and Which Weighs More? Weights and Measurements STEM Activity

Looking for more? View these categories!