This past week, the daycare at our church decorated for Dr. Seuss Day. My friend, who is a preschool teacher there, enlisted my help in designing and creating a classroom door decoration for a contest they were having. After some brainstorming, we came up with this idea for Baby Shark + Dr. Seuss Classroom Decorations for Your Door.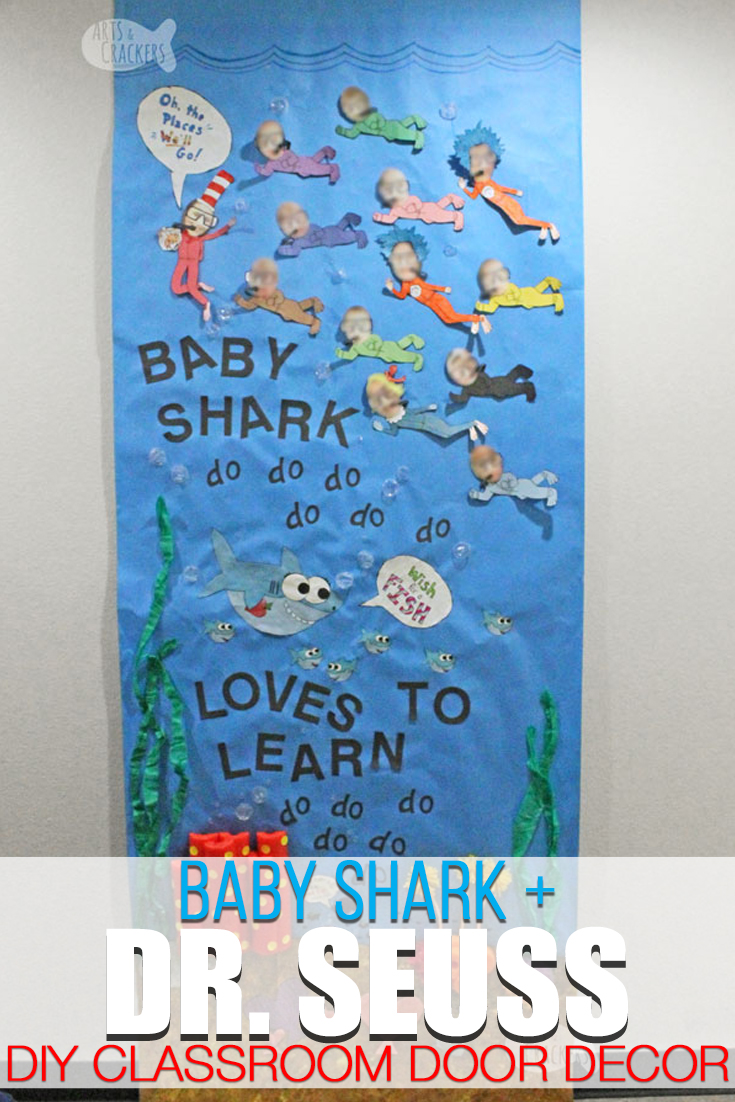 This post contains affiliate links. By purchasing through these links, you help support the family behind Arts & Crackers at no added cost to you! Thank you!
In the preschool world, "Baby Shark" is a huge deal. We decided to make a Baby Shark Door with a Dr. Seuss twist. We included her class and teachers and a lot of little hints to Dr. Seuss books and characters.
Baby Shark + Dr. Seuss Classroom Decorations for Your Door
For the privacy of the kiddos and teachers, I blurred out their faces (except my friend's, since I have her permission).
We used mostly items we had around the house or could get easily.
Since the preschool doesn't have regular doors, we decorated the wall.
Initially, we thought this was supposed to be a Valentine's Day design, so we actually created it with hidden hearts (we would have added more if we'd stuck with the Valentine's Day theme completely) and a general "love" theme, then created extra Dr. Seuss cut-outs to add to the door after Valentine's Day. You can stick with this Dr. Seuss theme, a Valentine's Day theme, or modify it to fit any theme. We hid little parts of several fun, kid-friendly characters and books into our design.
P.S. You can also use this idea to create party decor for your little's birthday! Just remove the "teacher" aspect!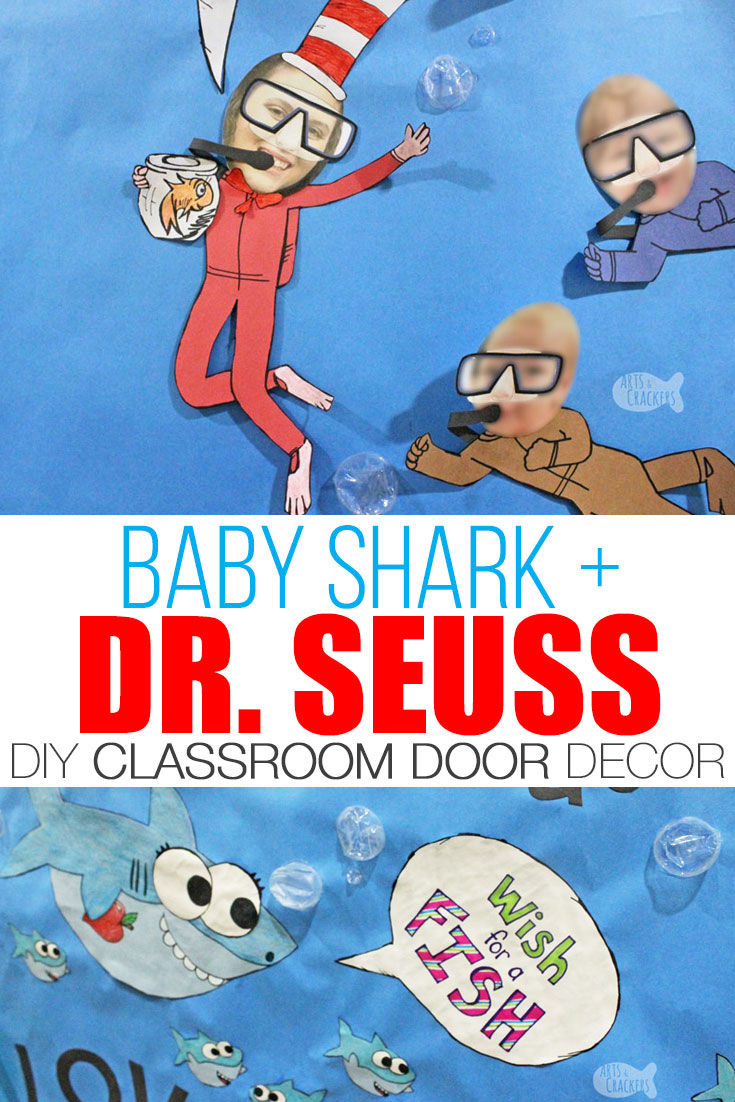 For This Baby Shark + Dr. Seuss Classroom Decor We Used:
Here's a Generic Tutorial:
Because I made this Baby Shark + Dr. Seuss Door Decor for a school classroom and we were on a time crunch, I do not have all the usual DIY steps and in-process photos and templates I usually would provide with a DIY tutorial, but I did want to share an overall idea of how we put this together to inspire you in your own design. I will add a couple templates for you soon.
We cut pool noodles into smaller pieces, then cut those pieces in half. We used hot glue to carefully glue those pieces together to look like an underwater sponge. Be careful when doing this, as the glue can melt the pool noodles if it gets too hot.
To add some extra Dr. Seuss-inspired cuteness, we stuck some yellow sticker dot labels all around them. These don't stick super well on their own, so you may want to add extra glue or just let them stick on there however they want to (with the edges curled up).
We make tiny Truffula Trees using paper straws (which we bent just slightly) and some homemade yarn pompoms. We glued these above some pool noodles cut into rings and glued together to look like coral, and we glued some pink tissue paper onto the pool noodles to look like a flower.
I actually used a design from our Under the Sea Birthday Party – we carefully hot-glued yarn into squiggles all over a half-sphere flower foam piece then glued some fake flowers onto the side.
We carefully glued this under some party streamer seaweed so you couldn't see the torn bottom of the seaweed.
We decided to add construction paper rocks and shells. The shells we cut into heart shapes (to initially fit our Valentine's Day theme). The rocks I cut in various sizes out of light blue construction paper, then I colored them a little bit with crayon to give them some definition. We used crumpled up wax paper dipped into marbled black and white acrylic paints to stamp on a textured paint design. To keep with everything else, I gave the rocks a black outline using a permanent marker.
We placed all of these ocean floor pieces on top of a piece of brown paper grocery bag cut to look like wavy sand. We also used crumpled wax paper and paints (brown, yellow, and gold) to give it a textured sand look.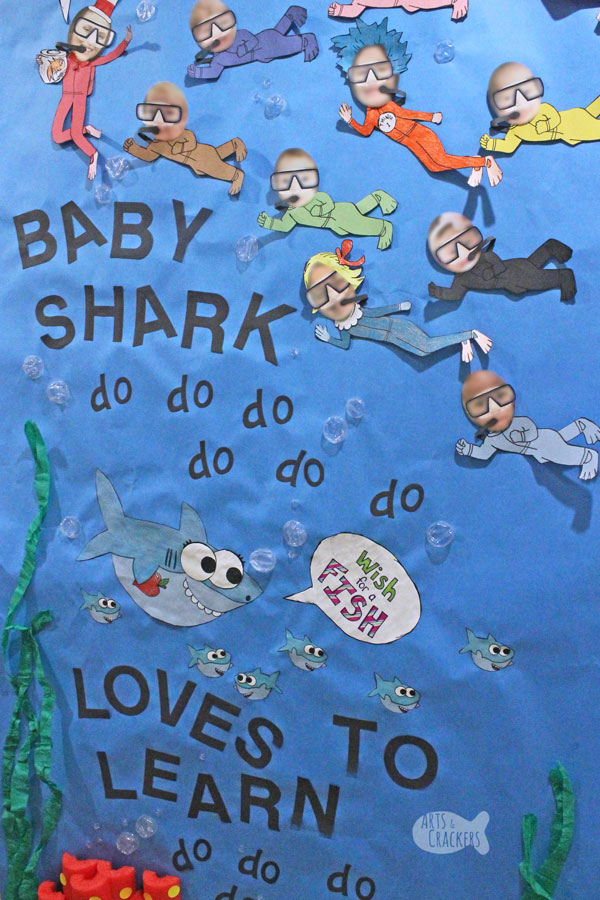 The main wording we added was "Baby Shark do do do do do do…Loves to Learn do do do do do do." Those babies are obsessed with the "Baby Shark" song lately!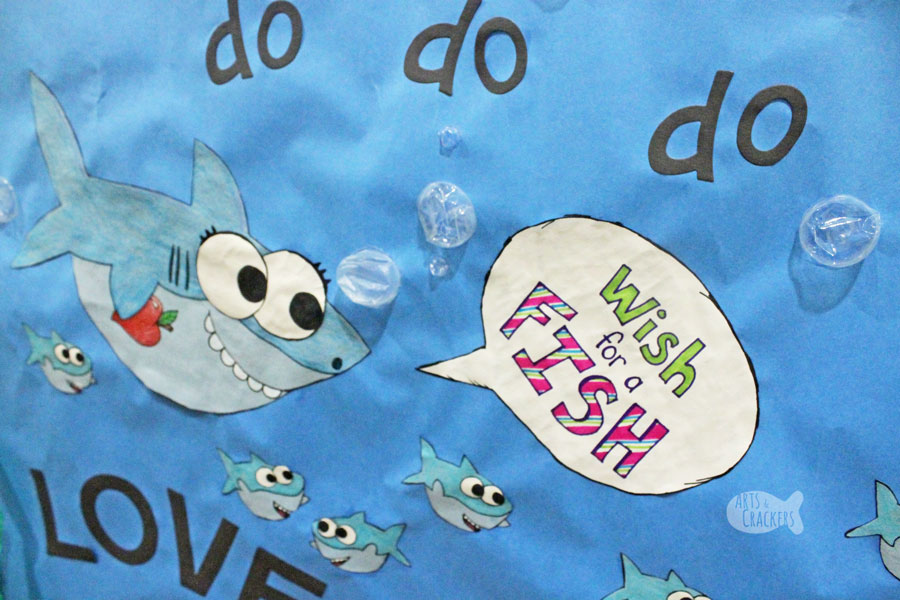 I also hand-drew and cut a teacher shark and some baby student sharks based off of one of the popular "Baby Shark" characters (one they would, and did recognize). For the sharks, I used construction paper, crayons, markers, and a white chalk marker.
The teacher shark has a speech bubble referencing "Wish for a Fish."
To incorporate the class into the design, we printed their faces and gave them underwater gear! I made different designs for the students, assistant teachers, and the head teacher. We got pictures of each and cropped their faces into oval shapes (the same sizes, using a photo design program). Their faces were about 2-3 inches long and we printed them on 4×6 prints. Before printing them, I added the scuba goggles PNG file (which has a transparent background) over their faces, so the masks would print on them, rather than us having to cut them each out by hand.
We taped the heads to the scuba gear bodies, then glued strips of black construction paper over their mouths and onto the back to look like tubes to oxygen tanks (because I had to be as realistic as possible…wouldn't want to forget a way to keep them breathing!).
Each scuba diving kid was attached using removable sticker squares, so we can easily move them, remove them, and give them to their parents afterwards.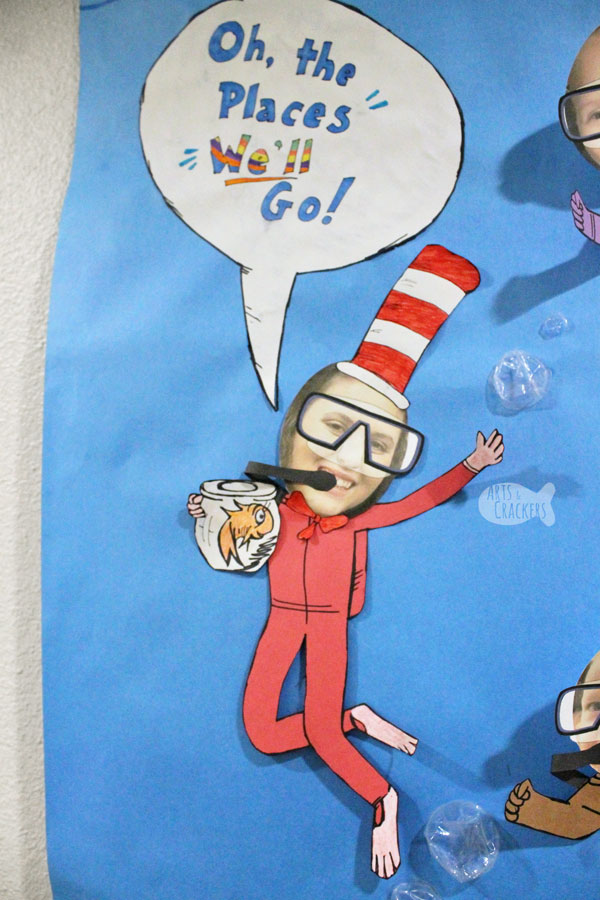 To keep with the Dr. Seuss theme, I dressed each teacher up as a Dr. Seuss character. My friend, the lead teacher, was the Cat in the Hat. I gave her a hat and had her hold the Cat's fishbowl. The other teachers were Sally, Thing 1, and Thing 2.
The Cat in the Hat/lead teacher has a speech bubble referencing "Oh, the places we'll go." (We used "we'll" instead of "you'll" since it was talking about a whole class.) You can also have one of the assistant teachers saying "Hark! A Shark!"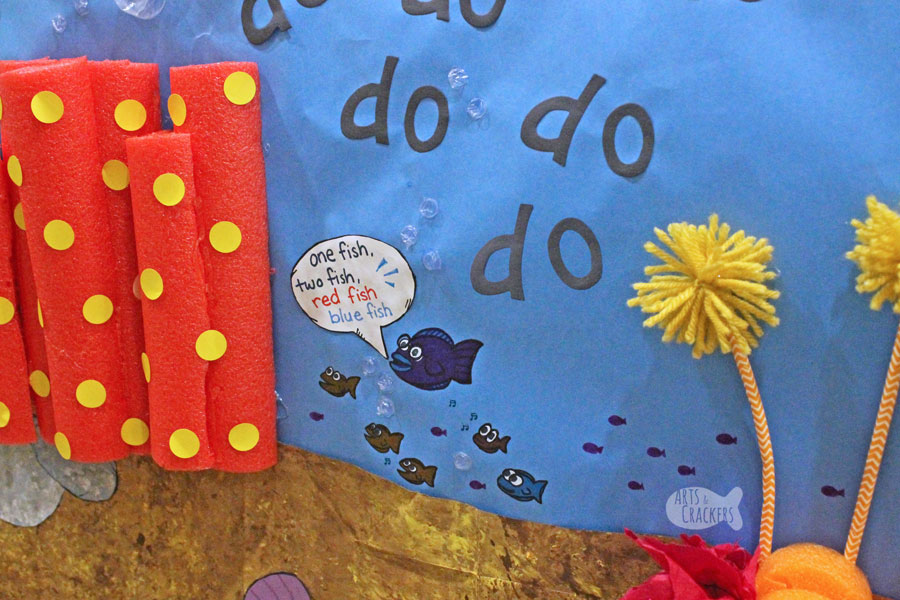 At the bottom, we added a tiny school of fish…a teacher fish, one fish by itself, two fish by each other, a red fish, a blue fish, and a bunch of little nondescript filler fish.
The teacher has a speech bubble quoting "One fish, two fish, red fish, blue fish."
To top it all off, we carefully cut out the bubbles from large, small, and medium bubble wrap and glued them on all around. They look like real bubbles!!
The design is multi-leveled. The preschool is on a field trip exploring the ocean and watching the school of sharks. The school of sharks is on a field trip watching a school of fish. The school of fish is learning from a Dr. Seuss book!
Here's the best part: my friend won the Dr. Seuss Door Decorating Classroom Contest!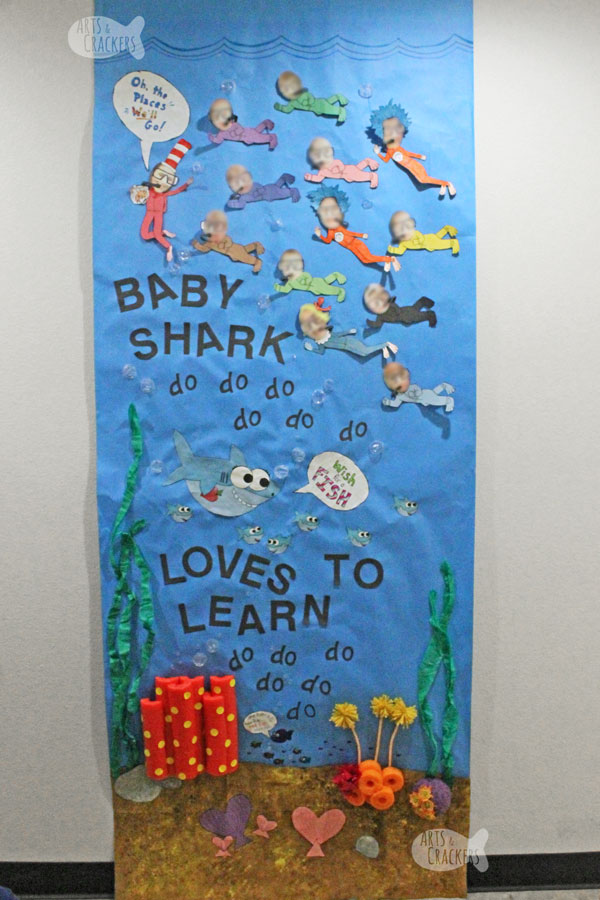 Are you a teacher? Do you celebrate Dr. Seuss day? Does your class love "Baby Shark"?
PRINT THESE TEMPLATES (hopefully I will be able to add more if I can get the rest of the scans)!
(
Read also: Decorating My Toddler Son's Bedroom | Vehicle Theme and "Wild About Reading" Jungle Book Nook Makeover and Easy LEGO Sensory Wall Room Decor

Looking for more? View these categories!