Traditions aren't really our thing. We try to create traditions for all the holidays and things, but something usually always comes up or we forget or we just aren't feeling it. This tradition, however — our Valentine's Day Random Acts of Kindness Idea for Kids tradition, has stuck with us the last few years and I love it. I don't ever want it to stop.
This post contains affiliate links. By purchasing through these links, you help support the family behind Arts & Crackers at no added cost to you! Thank you!
Valentine's Day has not been a holiday I have always loved. Let's be real; a lot of people cannot stand Valentine's Day.
I'd gone along with it over the years, but it wasn't my favorite. I have often felt left out. I was the kid that sometimes wouldn't get Valentines from everyone in the class. I was the kid that never dated anyone (but for that, I am thankful—my husband has always been the one-and-only).
How Our Valentine's Day Tradition Started:
My husband, who is in the military, has been away or deployed for several Valentine's Days now. The other year when he was deployed, he was telling me how he wished he could get me flowers. He knew I wouldn't want him to order me flowers for way more than we could get them in the store. We don't have the money to waste on that.
He asked me if I could take the boys to the store and let them buy me flowers. We discussed it more, and I felt weird being in the position of technically buying flowers for myself as a Valentine's Day gift.
Don't get me wrong, I do love to buy myself flowers to keep the house looking bright and cheery, but it just seemed weird on Valentine's Day.
Valentine's Day Random Acts of Kindness Idea for Kids
I remembered years ago when my coworker knew I was having a terrible Valentine's Day, so this coworker bought me a rose. My first ever gifted rose. I remembered how I felt cared about, how it brightened my day.
Then it hit me…
What if we bought flowers still, but we handed them out to others to bless them?!
A beautiful Valentine's Day tradition was born.

We bought a dozen roses; we prepped them the night before (trimming them, removing bad petals, cutting off the sharp thorns, etc) and placed them in water. While they wouldn't stay at our home, we sure enjoyed caring for them and smelling them and looking at their beauty for that night.
The next day, we all put on our special Valentine's Day shirts (read the story about those here), then we brought these roses along to the boys' therapy at the hospital. (Don't have a special Valentine's Day shirt? Order our Love in Latin Heart Shirt.)
As we sat in the waiting room, the boys handed out a rose to anyone and everyone they wanted to, along with a cheerful "Happy Valentine's Day!" No restrictions. They gave one to the receptionist. They gave some to women, children, and even men who were in the waiting room. Of course, they saved roses for their therapists too.
(These photos aren't all my usual quality, but they were phone photos taken over the years and I wanted to share them with you anyway!)
The boys loved it.

Before I go any further, I want to say that we do not do this for attention or for anything in return. I am also not sharing this to boast, but rather in hopes to inspire!

The next year, we moved to another state. We decided to do our Valentine's Day Random Acts of Kindness again.
That year we bought two dozen roses. The boys each got a dozen to hand out. We prepped them the night before, then we dressed in our special Valentine's Day outfits and headed out to give them away on Valentine's Day.
Our first stop was the local doughnut shop (which has become part of the tradition). We enjoyed some yummy doughnuts with a small vase of roses on our table. When we finished our doughnuts, the boys ran up to the counter and gave the workers roses! Then, we went to the BX (a military store) on base. The boys handed out roses to customers and workers.
I took the boys to Starbucks (another tradition) and they handed more out there and we called it a day.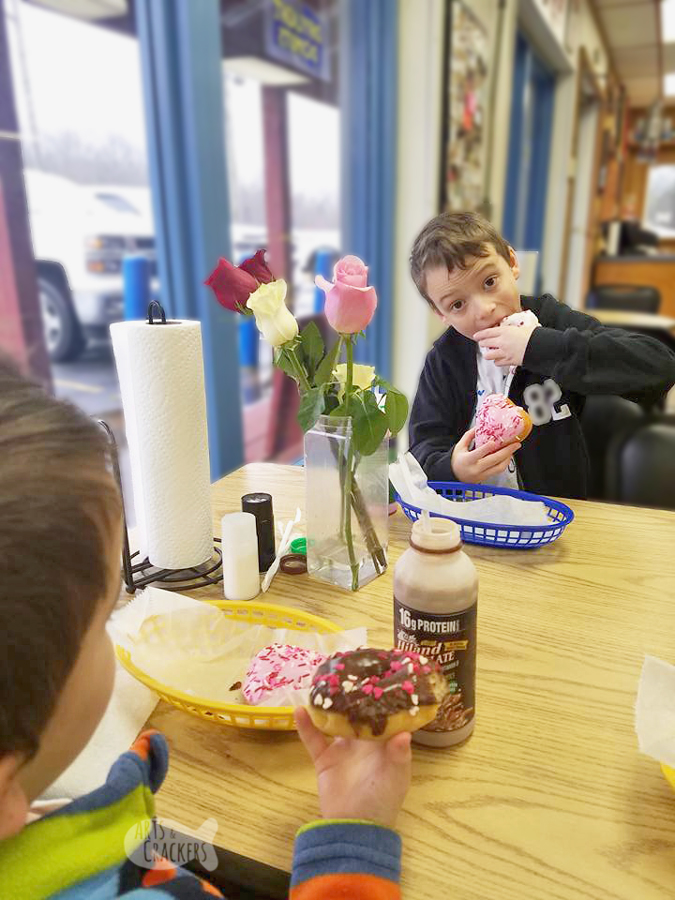 This year, we continued the Valentine's Day tradition.

Knowing that our schedule would be incredibly packed, we decided to purchase even more flowers this year. The boys each purchased a dozen with their own money, then I purchased some so they had more to hand out.
We prepped the flowers the night before (I saved the imperfect outer petals for us to do a project with them, rather than throwing them away). The next day, we put on our special Valentine's Day shirts and left for a very busy day.
We handed some out at the medical clinic on base during my appointment (and during the time we were outside in the cold after everyone had to evacuate the building). The receptionists were so touched, they wanted to give the boys doughnuts.
We stopped for doughnuts, per tradition, after the appointment. They handed roses to the workers, who were so surprised and excited to receive them.
We stopped at home and re-filled our cup of water with stems of roses and headed out to Bible study. The boys gave all the ladies at Bible study a rose.
We finished up Bible study, headed home for a quick lunch, and re-stocked our roses. Then we went to therapy. They gave roses, along with that cheerful "Happy Valentine's Day" to everyone.
After therapy, we headed to the BX and handed out more roses. I was surprised that some asked how much the roses cost after the boys handed them out. Nothing! They're free, because we love you! Several of the small business kiosk decided to give them free honey sticks and candies to thank them, even though they expected nothing in return.
They ran up to strangers (with my approval and with me watching from a near-distance), any person they wanted to, big or small, and handed out roses. I had to remind them to be polite about it and not just jump in there, so we said, "Excuse me, Happy Valentine's Day!"
Per tradition, we stopped at Starbucks to take advantage of their Valentine's Day deal and get drinks for Daddy and for the boys to share. They gave roses to the Starbucks workers.
We headed home where we saw a friend and gave her a flower, then we walked to another friend's house and the boys delivered flowers to her and her daughters and they had fun playing for a while while we talked.
When we got home, it was late, so we decided to head to the local pizza place for dinner and to hand out the rest of our flowers. We hadn't planned to eat out, but the day was even busier than expected.
The boys handed some to the ladies at the tables near ours. One teenager blushed and smiled ear to ear, because she never expected to receive a flower.
S was quite tired at this point. He had asked for a slice of cheese pizza, then had a meltdown once it hit his plate, because he really didn't want it. I think he hurt the server's feelings a bit and I tried to explain he is just tired and did actually want it.
He ate some and felt better, and decided to go give a flower to this server to make her feel better. She started crying happy tears. We were so touched! She was so touched! That flower made all the difference! E went up to the counter and gave one to a worker there.
A little while later, the girls came by with a bunch of candy and tokens to say thank you. The boys didn't expect all of this, but they were so grateful for the treats. Then the girls disappeared.
Another worker came up to us and told us the girls were so happy, they were in the bathroom crying. She told us how one of the workers had just been expressing how sad she was that she had not received a, specifically, a rose for Valentine's Day. She did not know that we were handing them out, and it was our last rose. The worker said that right after this girl had expressed this, she turned around and there was E, arm outstretched with a rose and a cheerful "Happy Valentine's Day!"
God put us there for a reason. God had us bring flowers for a reason. God put on E's heart to give the worker a rose for a reason. And that little random act of kindness made a world of difference for her.
I pray it reminds her that she is loved, she is worthy, she deserves kindness. I pray it was an example to others to show them the importance of teaching our boys to be gentleman and know the worth of others, and of teaching our kids to give cheerfully and show kindness and the love of Jesus to others.
We made one more stop afterwards and delivered flowers to another friend and her daughter, then the next day to another friend and her daughter too. It was a very busy, but wonderful day, and the boys learned so much about showing love and kindness.
There are some things I would like to point out that we do to make sure that our Valentine's Day Random Acts of Kindness Idea for Kids are done in the right spirit:
1. We make sure the kids know that this is not done to receive praise or gifts. I explain it, then I quiz them on it to make sure they understand. We do not give to receive, we give to bless. When they do receive gifts, we accept them humbly and gratefully knowing that others were simply moved to bless it forward.
2. We learn that our money and our things are not ours—they are God's. Would God want us to keep all of His money and things for ourselves? Or would He want us to share it to bless others?
3. We learn how to approach strangers properly and safely. We can only approach strangers with Mom or Dad's permission and should not approach strangers without Mom and Dad (unless it is an emergency and they need help, of course, like a police officer or store clerk). We learn not to run up to them and throw the roses or yell at them, but to kindly say, "Excuse me. Happy Valentine's Day!" We learn not to try to give roses to people while their hands are full (this one needs some work).
4. We learn not to judge others or respect certain people more highly than others because we have more in common. My boys will give flowers to anyone. It doesn't matter if they are old or young, able or handicapped, male or female, rich or poor, have light skin or dark skin. They can look different than us, they can talk different than us, they can have different ideas than us…everyone deserves kindness, everyone is loved by God, so anyone the boys feel led to hand a rose to gets one!
5. We learned that we don't have to show kindness only on specific holidays like Valentine's Day. We can show it at any time, but this is our special tradition to remind us to set aside time to give and love.
6. We learn that it is better to give than to receive (Acts 20:35).
7. We learn that not everyone is going to be kind and grateful back. Some will say no to the flower and a few may even make rude comments. We still need to be kind to them and move on to find someone else who will enjoy it.
8. We learn that we should give of our own wallets, and not just Mom's. The past couple of years, I have paid for the flowers. This year, the boys had cash in their wallets and I asked if they would like to put any of their own money towards flowers.
S was very excited to spend the money and bought a dozen. I had to explain to him how he had less money now, so he understood that it cost him, but it was a very good investment and that's how God wants us to spend His money (but we also should not spend all of our money all the time—we need to be good stewards of what He has given us to take care of).
E was not so fast to spend his money. He actually ended up paying me back for some once we got home. I have been working on teaching him to be wise with money and to save it up, so when he saw the cost, he was not about to spend the money on it. I explained that while, yes, we should be smart with money and not just spend it all and save for big things, this money is God's and He also tells us to give to others, to love our neighbor, and to give cheerfully. Once he understood, he was on board for putting his money towards some flowers.
Things We Will Do Differently Next Year:
The boys will do small jobs for others to earn money to spend on flowers (after tithing on it). They are hoping to be able to get even more flowers to give next year.
We will pray over the roses before we hand them out, asking God to bless them and asking that they will show Jesus' love and make a difference, and that we will continue to give with good hearts and good intentions.
We plan to include verses with the roses, and maybe even packaging for each.
UPDATE: This year, 2022, we were finally able to set up a fundraiser towards roses for 2023. We had a hot cocoa stand with a ton of fun toppings. (I covered the supplies as my contribution, and I helped the boys decorate and plan as their "event coordinating advisor.") They made $126 towards roses, so we are going to contact a local florist to hopefully partner with them!
Five years in and I made printable Bible verse tags about love; get your own here!
Cut these out by hand, or use this 2″ hole punch for ease! Prepare with a regular hole punch and some twine!
Keep in mind, you don't need to specifically hand out roses. You can hand out any flowers you can afford; you can hand out Valentine's Day cards; you can hand out chocolates. The main point of all of this is to give sacrificially to show love to others. Valentine's Day is the perfect day to make this a habit, but do it for Easter! Do it for your birthday! Do it for Mother's Day! Do it just because!
Read also: "Hey, Guess What…" Kindness Game and Building Self Esteem in Kids and SNICKERS and Laughs–to Brighten a Day and "Be a Rainbow in Someone's Cloud" Quote Coloring Page

Looking for more? View these categories!