Praying for your husband is a powerful, powerful thing. The Bible tells us in James 5:16: "Confess your faults one to another, and pray one for another, that ye may be healed. The effectual fervent prayer of a righteous man availeth much." Prayer is powerful, and a praying wife is a huge blessing to her husband.
This post contains affiliate links. By purchasing through these links, you help support the family behind Arts & Crackers at no added cost to you! Thank you!
Below is a prayer for my husband. I prayed this and wrote it out and let him even read it when he needed some encouragement.
You can use this prayer as a template to pray for your spouse, just change it around to make it personal for you. Pray from your heart, and not just repeating the words blankly.
Remember that the Bible tells us: "Ask, and it shall be given you; seek, and you shall find; knock, and it shall be opened unto you: For every one that asks receives; and he that seeks finds; and to him that knocks it shall be opened" in Matthew 7:7-8. Prayer is important. It's powerful and effective.
Pray for your husband daily. Pray purposefully. Pray for his present, his future, his physical and emotional and spiritual needs, his safety, his joy, his direction…this is just one of our important tasks as helpmeet.
Sometimes it's hard to pray for your husband when he's not very wonderful. Sometimes you're bitter. Sometimes you feel lost for what to do because he is lost. But prayer is powerful and praying for your husband, whether he is already a great husband and spiritual leader or he is far from it, is so very, very important.
If your husband is not saved, or your prayer is too personal, there is no need to show him. In fact, it may be best to keep it just between you and God. Our situation is a bit different, as we are open about everything and this came at a time that he really needed to hear it, but sometimes things are best kept between you and God. Perhaps you will want to still write it in a prayer journal to return to later, even to pray again later, or to see what areas God has healed him in that you can update with new prayers.
I pray that this not only blesses your husband, but blesses you too. Put God first; honor your husband; love your husband; help your husband; find joy and love and peace in God.
A Prayer for My Husband — A Template for Praying for Your Husband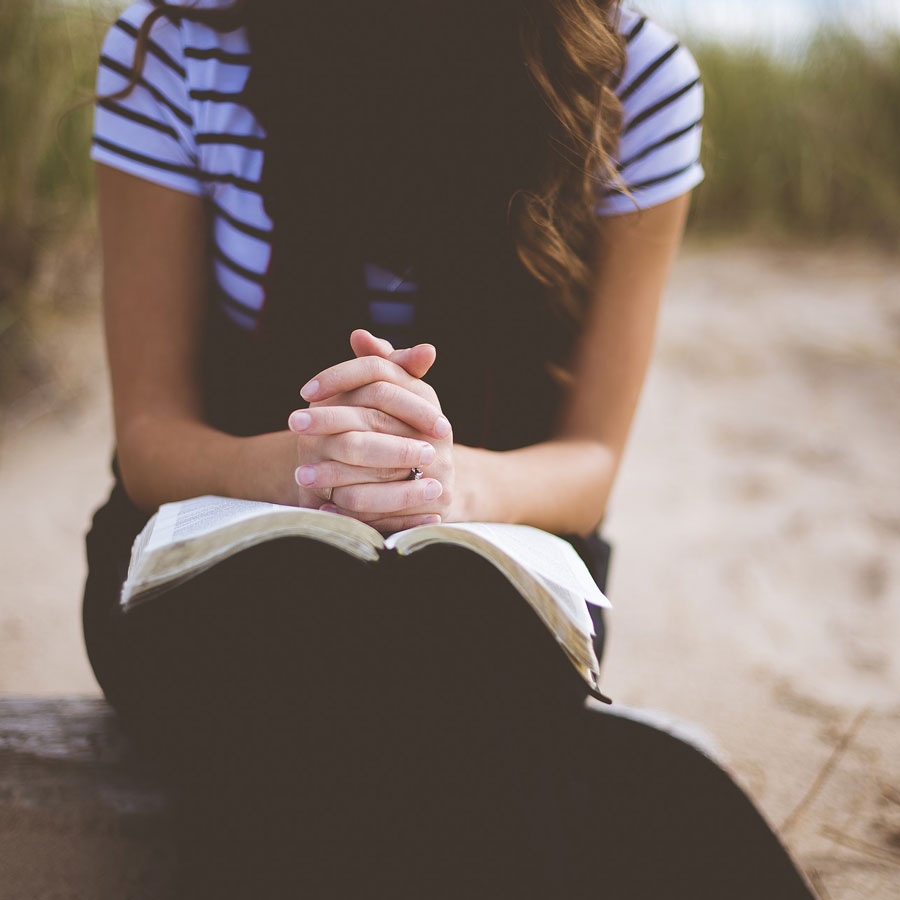 A Prayer for My Husband
Father God, You are first in my life. You are the ultimate example of love and faithfulness and leadership. LORD, You are my joy and my salvation, my love, my hope, my future, my Father.
God, I ask you, as Your child who loves You and knows You love me too, that You would care for and guard this husband You have graciously blessed me with. You are Provider, Comforter, Healer, Guide, Director, Defender.
LORD, please guard his heart. Let it beat first for you, next for me, for our children and then with love for others. LORD, our Strength and Healer, keep it healthy. Keep it pure.
Guard his heart with the breastplate of righteousness. Let him hide Your Word there, that he might not sin against You.
—
LORD, guard his mind. Whatever is pure, lovely, honest, just, of good report, true, virtuous and praiseworthy, let him think on these things. Fill his mind with knowledge of Your Word.
Let him know and trust his worth in Christ, as well as his family's love for him. Keep his mind sound. Fill him with joy, peace. Father, keep his mind pure. Guard it with the helmet of salvation. Keep what is good in, and what is bad out.
Give him discernment and clarity of thought and wisdom to defend against the wiles of the devil. Let him check everything against Your Word, and not what this world says or what we have been taught. Keep his mind set on things above, and not on things of this earth.
—
Help his hands, LORD. Let him faithfully hold the sword of the Spirit and the shield of faith, not only to defend and offend his faith and family, but to defend against his own fleshly temptations. LORD, keep his hands busy with Your work.
Give his hands strength for what You have called them to. Give them gentleness to care for others. Give them leadership—help them to follow Your commands and instruction so that he may properly instruct others in Your way.
Give steadiness to his hands, that they would stay true to You, and held high through Life's battles. Give them power as he picks up Your Word, which is sharper than any two-edged sword, quick and powerful.
Help his hands to do good. Let them be quick to give, quick to let go of selfish desires and wave others ahead of him. Let them serve others in physical needs with the talents You have given him, and in spiritual needs as he folds them in prayer.
Let his hands overflow with so many blessings that he cannot even hold them all. Let him share those blessings with others.
Let his hands be welcoming, showing love to all, that he will not be a respecter of persons, but that he will love others unconditionally as Jesus, regardless of our differences in beliefs, looks, interests. I pray that he will take their hands, love them, uplift them and lead them to You, even carry them to You if need be.
I pray that You will let his hands point to Your word and truths, that he may see his own faults and that he may show others what Your Word says, that he will not just let himself or others stay out of Your will, but that he will lovingly follow the instructions You have given and lead others into Your truth.
Help his hands to love and embrace his family. Help them to show love, to instruction, to lead, to work, to play.
LORD, let his hands be lifted high in praise to You and lowered in humility. Let them knock on doors You want to open for him. Father, give them a purpose—both in worldly work and heavenly work. Fold them daily in prayer.
—
LORD God, guard his feet. Shod them with spiked sandals of readiness that he may stay grounded in his faith and Your truth, stand firm on your promises, remain steadfast in trials and be ready to face the winds of other doctrines and the storms of Life that he may not be moved or swayed from Your Good News and peace. Protect and direct every step he takes in Your way.
LORD, I ask that you support him in Your will. I thank you that you have only good thoughts towards him and only good plans. I ask that he will have faith and hope and peace in the knowledge that he always has Your footsteps beside his, even sometimes in place of his, every step along the way.
Father, walk with him to guide him along the path You have so perfectly chosen for him. Keep him in your way so that he may not fall to flesh and prey, wander into the dark and entrapping woods of temptation, lose himself and forget the markings you've used to direct him or find himself ambushed by this ruthless world.
LORD God, please help him to keep his step in your time. Let him not race where you want him to walk, stand still where you want him to sprint or keep on where you want him to turn around and change course. Let him trust your timing. Run with him to keep his pace.
Father, clean and anoint his feet, that they may be healthy and happy to do your work and go anywhere they are called. Let them not grow weary or sore. Give them rest when they need rest, that they may continue steadily along the path you have laid out in this race we are running.
—
Father, guard his eyes. Let them wear goggles that protect them and keep bad things from entering, give them vision in the dark and give them clarity to make wise decisions.
LORD, give him blinders to keep his eyes from temptation. Let enter in only what good You have for him.
Let them see You when he looks at his reflection. Let him see your beautiful and wonderful design, as You have made him wonderfully and fearfully. Let him see someone who has a God-given purpose. Let him see someone full of talent and gifts from You. Let him see someone who is worth so much that God sent His Only Son to die and rise again for him. Let him see a face filled with unexplainable peace and joy. Let him see a strong man, but also a gentle soul.
Let them see this world as You see it—with love and care and concern and mercy. Let them see the needs that need to be filled and the answers to how to make a difference and show You to others.
Let them see me as his equal, his helpmeet, his joy, his blessing, and let me fill that part wholly and willfully, as You have called me to. Let them see our children as gifts; let them see through the parenting struggles we face and focus on the good that so overshadows the bad and frustrating.
Let him see Your Word daily, as he makes the choice to put You first and follow You. Keep those words forever in front of him. Set them before him when his eyes are tempted to look to anything but Your truth. Let them not grow weary our out of focus as life wanes on. Even if it's Your will that his physical vision may fail, let his spiritual vision remain as clear as ever.
They say the eyes are the windows to the soul—God, let others see the Holy Spirit when they look into his eyes. Let others see in his eyes a love and gentleness and peace and faithfulness and joy that can only be there because of You. Be his vision.
—
Father, protect his ears. Let them stay covered by the helmet of salvation. Give him noise-cancelling headphones to cancel out the noise of this world, that he may hear clearly what You have to say to him. Let nothing worldly enter in so far that it reaches his mind and heart, but let Your word resonate throughout his whole being.
Let him be a good listener—to hear You speak through Your Word, to hear me…as his wife…and to prayerfully consider the help I am meant to offer and to love me as Christ loves the Church, to hear our children so they know they can confide in us and look to us for advice, to hear the needs of others and to be someone others can go to for advice.
God, You are the Great Physician. Give his hearing physical healing, if it is Your will. Let them be strong and healthy. Keep them spiritually sound and let them desire only Your sweet truth.
—
LORD, protect his mouth. Let it speak words of truth and love and wisdom. Let only things that are acceptable proceed out of his mouth. Tame his tongue, which is so hard, even impossible, for us to tame on our own. Give him strength to battle this small, but powerful member of our bodies.
Filter his speech through your words. Let it be wholesome and uplifting. Let it be peaceful and true. Let it be bold and courageous.
Stop his speech when it may not be acceptable to You. Give him boldness of speech when he needs to speak up, even if it may be hard and might offend someone. Let his conversation glorify You and let it be above reproach. Let him speak in love to others. Let them hear You when he speaks.
God, guard his mouth in a more physical way as well. Let only good things enter in. God, help him (and us) to eat healthier to take care of these bodies You have given us. Lord, give us discernment on medications doctors may prescribe, that he only take those that will be helpful and healthy to his body. We know that You have given us so many freedoms in Christ and you want us to enjoy life and blessings, but we also know that You give warnings about consuming in excess and uncontrollably. Father, give him strength against temptations and let him know when to stop. LORD, keep him from consuming excess of anything, that he may not place anything as an idol above You or allow anything to control his mind so his focus is taken away from You.
LORD, let him kiss me ever so sweetly. Let his lips be only mine, and mine only his. Let his words uplift me, and my words uplift him. Let us speak forgiveness to one another. Let us shower blessings on each other. Let a smile spread across our face when we see or think of each other. Let us speak truth to each other, in love, even when it's hard, and let us always have an open conversation and consistent communication. Let us pray for one another daily, fervently. Let us pray together. Let us pray for our children and our future. Let us pray in Your will. Let our love song continue to grow, let it be in tune, let us harmonize, let it be a sweet sound in Your ears.
—
Father, I pray for his body as a whole. You are Healer. Please heal his body, if this is Your will. Give him strength regardless. Let him not grow weary in what You have called him to do. I pray You offer him health. I pray You give the doctors wisdom as he seeks their advice. I pray You allow medications and healthier lifestyle choices to help him to have the energy and drive and ability to continue in Your calling.
Protect him as he serves in the military, as he drives to each place he needs to go, as he sits in his own thoughts. Protect him when he is at home, at work or overseas. Protect him, body and mind.
Strengthen the core of his faith; let him not stray from Your truths. Hold him in Your way with the belt of truth.
—
Father, guard his emotions. Let them not control him, but strengthen him and allow him to help others with them. Give him victory in patience. Abase anger that may arise. Relieve his stress. Cast away his fear. Fill him with courage.
LORD, give him remembrance of the lessons You've taught him through past trials, but let him not dwell on the negatives that may be associated with the past. Let him press forward, not looking back, but holding onto the truths and wisdom and strength You have proven in him through his refining struggles, that he may not fall back into the same traps and trials.
Father, I ask that all he does will be a godly example to our children and those around us. I pray that others will see that he is different, and that his testimony will lead people to You. I ask that his actions and words and testimony will direct our children in the path they should follow, that they will grow to be strong, godly, loving adults. I pray that he is a godly example of what a husband and father should be like. I pray that you will give him the desire and abilities to be the leader you have called him to be, at home and at work and in life. I pray that he remembers that to lead, he must first be a good follower.
I pray, LORD, that You will bless his work here on earth. Give him wisdom as he pursues whatever You have for our future. Give him clear direction, especially when we have no clue what we should do. Bless his decisions that are made prayerfully and lovingly. Give him strength for today and bright hope for tomorrow, that we would not worry about what our future holds, but know Who holds it.
—
God, I pray for his spirit. I pray that You would fill him with the Holy Spirit, so overflowing that his flesh has little say and he can easily fight those desires. I pray that You would clearly show him right from wrong. I pray that you will help him to not judge others by his freedoms or convictions, but that he would earnestly and fervently pray for you to do a work in them and in us and make clear Your will in our lives.
God, I pray that my husband will begin and end each day in prayer, that you will keep him praying throughout the day, not only when a need arises, but simply to praise and thank you as you bless him throughout each day. I pray that he will learn to pray fervently and with his whole heart, praising and honoring You far more than making requests. I pray that You will give him clarity of thought and keep him awake as he prays, that he will make it a priority. I pray that you will strengthen our prayers as a couple, and help us to be more consistent in fervent prayers than quick bedtime prayers. I pray that You will give power to our prayers. Give us great faith.
—
Father, I thank You so much for giving me this man to spend my life with and to keep me company. I thank You for putting him on my heart for prayer, and I thank You that You are faithful to answer prayers. I thank You that You will take care of him and strengthen him. I thank You for your love for us, and the love You have allowed us to have for each other—forgiving, merciful, ongoing love. I pray that we will continue to stick together, through the good times and the toughest of times. I pray that we will both put you first in our lives. I pray that we will work together as equals, both with different and equally-important roles in our family. I pray that I will honor him and that he will honor You.
LORD, bless him and keep him, love him, guide him, calm him, strengthen him. Thank You for loving us. Thank You for being in control of our futures, and only wanting what is good for us. Thank You for hearing and answering my earnest prayer. Thank You for my wonderful husband and my wonderful children and my wonderful Savior. Thank you for being Provider, Protector, Redeemer. Thank you for loving us. I lift all of this up in JESUS name.
Read also: Flowers and Faith Bible Verse Coloring Pages and God ALWAYS Answers Prayer—Infertility and My Son's First Birthday

Looking for more? View these categories!