This shop has been compensated by Collective Bias, Inc. and its advertiser. All opinions are mine alone. #HuggiesForHolidays #CollectiveBias
We were traveling back from doing a little holiday shopping when we smelled a big explosion…parents, you probably know where I'm going with this. Our little one had quite the dirty diaper…and car seat…and body. So. Gross. Unfortunately, this has happened numerous times on long trips, whether we were out shopping or on a road trip to visit family. Whether it is a diaper malfunction, cold and flu season germs, snotty noses, scrapes and cuts, or food face messes, we have learned the importance of being prepared for every mess. Baby wipes have always been a mom's best friend, but the Huggies Clutch 'n Clean Wipes are the handiest yet.
Now, we always keep certain items in our car or handy indoors so we don't forget, and wipes are on the top of our list. I really love these Clutch 'n Clean Wipes because they are so easy to tote around and have right there when they are needed the most. Since we picked ours up, I've used mine numerous times in the car, at the stores, and even at home when I needed something quickly. I'm thankful for my #CVSHuggiesHeroes .
Huggies wipes are dermatologically tested and mom approved (I approve!) In fact, they are rated the #1 choice of moms. What's extra special about the Clutch 'n Clean Wipes is that it has a stylish, water-proof clutch that can be refilled with your Huggies wipes. It has a clasp opening just like their other wipes containers so you can pull the wipes out one at a time. It even has a strap that you can wear around your wrist, attach to your purse, or hang from anywhere else you may need to.
The holidays usually mean a lot of trips in the car, messy meals at others' houses, and trips to the store (germs!) So what do we do when we are faced with such big messes? Well, I'm glad you asked.
I've come up with a list of a few items we keep in our "Emergency Mess Kit." Some items we will leave in the car so we don't forget them, and others we try to grab before we head out places.
Step 1: Clutch 'n Clean Wipes hack
The Clutch 'n Clean Wipes are meant to be refilled and the package that comes with it is meant to be fully opened and the wipes removed. Well, I wanted to keep the inside of the clutch dry so that I could tuck things behind it, so I came up with a hack. Using a knife or scissors (carefully of course), I slit a small area in the center of one side of the wipes package. Don't cut down too far, so you don't accidentally cut the wipes.
Step 2: Let's set up our kits
Think of the types of messes you may face. We mentioned them above, but let's visit them again: diaper messes, food messes, germ messes, sickness messes, owie messes.
1. Place the Huggies wipes into the clutch and pull a wipe through the front clasp. Wipes are great for so many messes. I'll share five ways to use the wipes at the end of the post.
2. Roll up a plastic bag and tuck it behind the wipes package. I used my CVS bag! This is great to have handy for dirty clothes, garbage, or replacing shopping bags that have broken open.
3. Stick a bandage behind the back. This can be used for cuts and scrapes, sealing smelly bags, or to temporarily replace broken diaper straps (because sometimes I'm in a rush to change the diaper and I rip off the straps with my super strength.)
4. Bring extra diapers and an extra outfit or two! We keep a stock of fresh diapers in an empty tissue box in my van, but I like to keep one handy with me at all times, so I stored one behind the wipes in my Huggies Clutch 'n Wipe bag. I bring the clothes on the side or keep some in my vehicle–these are so important because some messes are just too messy to keep the same outfit on your child.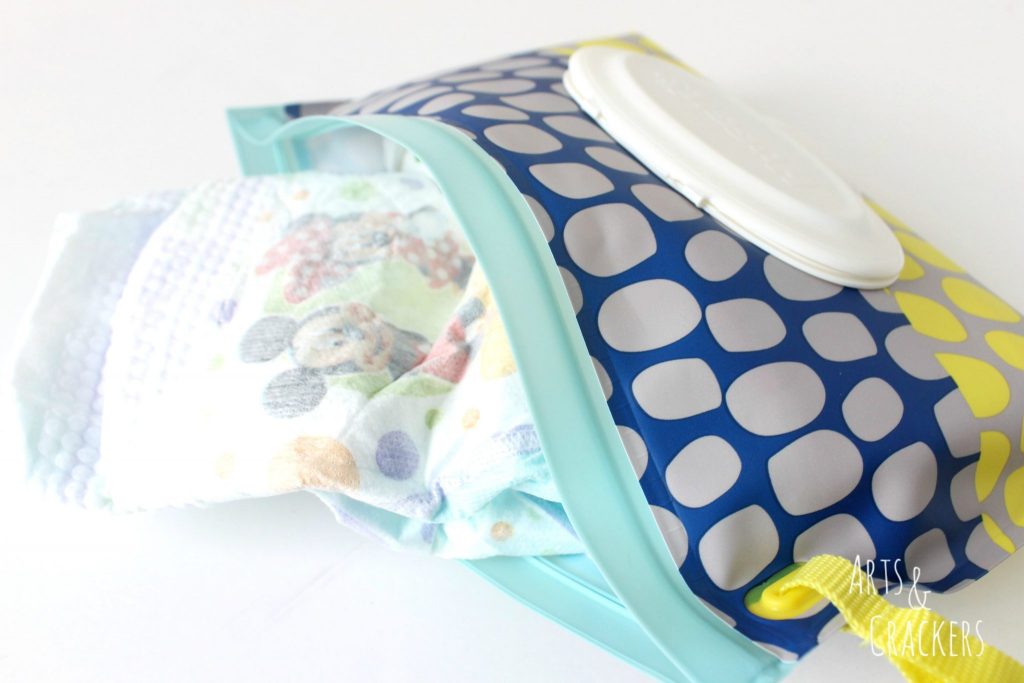 5. Bring water. This is something we make a point to bring on the way out of the house, because it's not good to leave bottled water sitting in your vehicle. My kids are usually great at remembering to bring their re-usable water bottles, and I usually set them all out on the accent table in the entryway a bit before we plan to leave so I don't forget. The water is useful in cleaning up bigger messes, moistening dry wipes (if you're like me and accidentally close lids incorrectly often), and for staying hydrated.
As promised, I want to share five ways you can use your Huggies Clutch 'n Clean Wipes for messes on the go.
For cleaning messy bottoms.
For washing messy hands and faces after meals.
For wiping down shopping carts.
For wiping boogie noses.
For cleaning up spills.
Confession time: I'm kind of a germaphobe. I definitely love the convenience of carrying these wipes around with me while I shop and wiping off the shopping cart handle.
The clutch comes in several great designs that you can coordinate with your outfit too if you want! I brightened up my dark-colored outfit with this pattern:
Shopping, traveling, visiting family–whatever you're plans, you've got the messes of the season covered, thanks to Huggies Clutch 'n Wipes and your emergency mess kit.
Share your worst baby mess story in the comments below! Were you prepared for the mess (I know, can you ever really be prepared? But were you "fairly prepared"? Or was it a disaster?) What emergency mess items do you take along with you everywhere you go? Learn more about the wonders of Clutch 'n Clean Wipes on the Huggies website.
Know someone who could use this? Hit the "share" buttons below! Be sure to follow Arts & Crackers on social media (buttons at the top right of the page.)
You May Also Like