Disclaimer: I received a free product for my post! These views are my own and were not 
at all influenced by the party who gave me this opportunity..
I love storage containers and being able to keep things tidy, even when it comes to food. For me, the NEW Nuby Garden Fresh Storage Pots are definitely a product of interest.
Click here to visit their website
This product comes in two color combinations: red + yellow and blue + green. It is freezer, dishwasher, and microwave safe as well as BPA FREE.
What I Love
Nuby's Garden Fresh Storage Pots are so versatile. You can use them to store fresh baby food (I froze some applesauce), snacks, or even non-food items! Use them at home or on the go.
These storage pots come with a tray that you can use to keep them together and even in the freezer. This also works well if you plan to toss them in your diaper bag, so the containers are easier to find. Use one container or bring all four. They have a non stick base that allows them to pop easily out of the tray after they have been frozen (push up from the bottom and they come right out) and it also prevents them from sliding all over the table.
Each set comes with four cups and each cup holds approximately 2 fl oz.. As I mentioned earlier, I used mine to freeze applesauce, which can be thawed and eaten. You can that it in and feed from the container itself or pop out the frozen food and thaw in another container. I also used the containers to store snacks for trips. The lids stay tightly sealed so they are easy to carry around and this also helps preserve freshness.
I was able to measure out 50 calorie portions of each snack (you can do 25 calories, too, so the full tray is 100 calories.) Often when I'm packing snacks for the kids I just dump random large amounts into a baggie and let them eat however much. I want my kids to be healthy, so I want to start limiting snacks so this was very helpful. Trying this out also helped me understand better how many calories are really in each snack food. Some foods you will find are lower in calories so you can't fit 50 calorie portions in the container, but you can always do smaller portions and keep track. Use a piece of tape and a marker to label each of the calorie amounts.
Hint** You can figure out how much of a food is 50 calories by looking at the nutritional label. Some will be exact already while others you will need to do the math. Divide the amount of calories per serving by the serving size. This will tell you how many calories are in each individual unit (whether it is one cracker or 1 oz..) Divide 50 calories by the number of calories per individual unit to find out how much of that food makes up a 50 calorie serving (i.e. if one 1/2 cup serving has 160 calories, do 160/0.5. You will get 320 per cup. Now do 50/320. You will get approx. 0.16 so your 50 calorie serving is a little over 1/8 cup.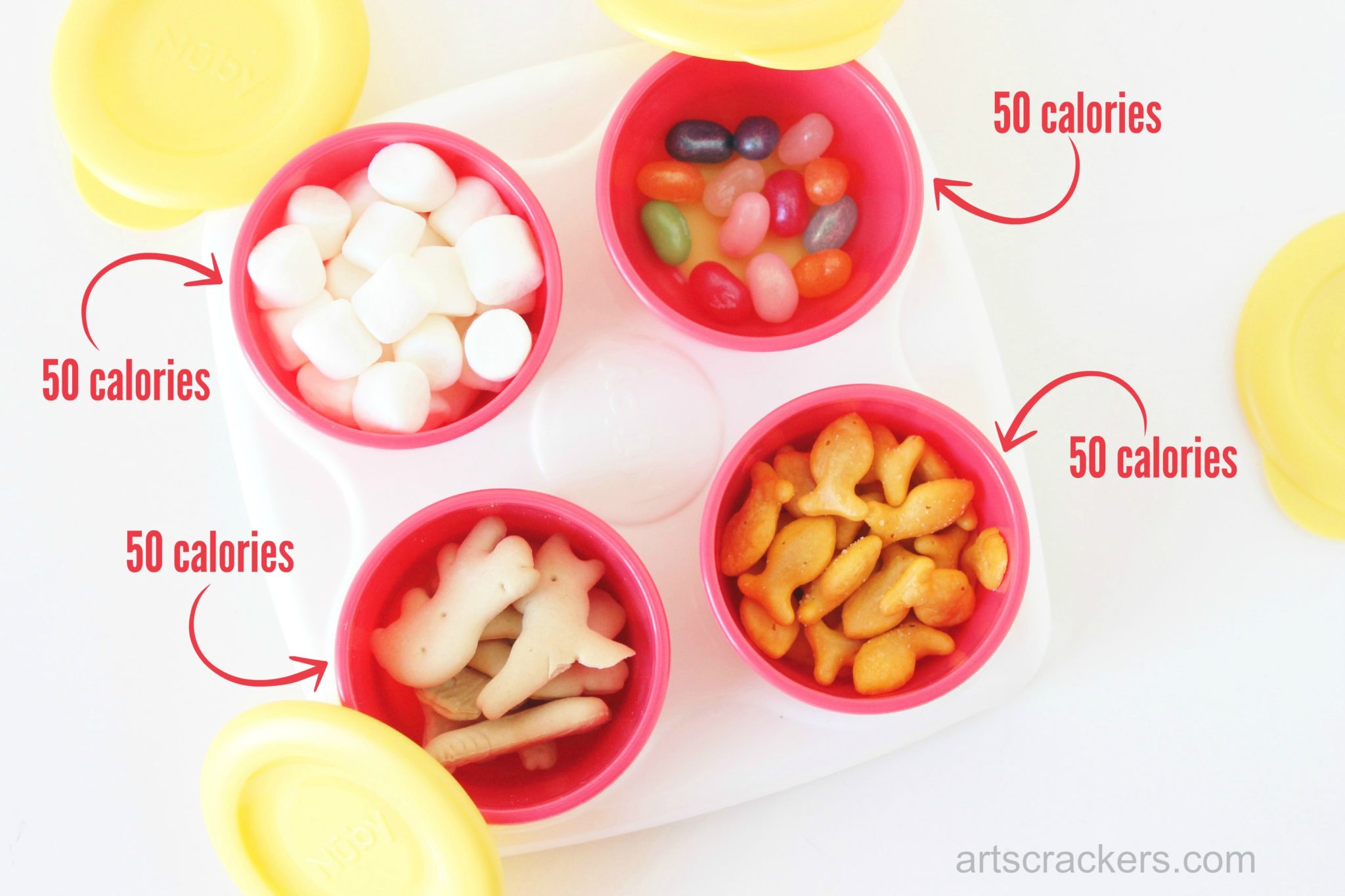 These containers are great for babies and toddlers, but they also grow with your child. Because they can be used for more than just baby food, even we parents can use them, especially if we are looking to count calories or store loose change for trips.
What I'm Not Huge On
Honestly, I love this product. I would, however, love for them to be just a little bit bigger. I used a container of applesauce that was one serving and I could not fit the full amount in the Nuby pots. I could see this happening with baby food as well. While you can fit these serving amounts to the top, if you fill it all the way to the top it will spill out when you put the lid on.
Overall, the Nuby Garden Fresh Storage Pots are convenient, multi-functional, and easy to use. I would definitely recommend this product to just about anyone.
You can purchase these storage pots from Amazon.com (affiliate link)
Know someone who could use this? Hit the "share" buttons below! Be sure to follow Arts & Crackers on social media (buttons at the top right of the page.)
-What will you store in your Garden Fresh Storage Pots?