Disclaimer: I received a free product for my post! These views are my own and were not 
at all influenced by the party who gave me this opportunity..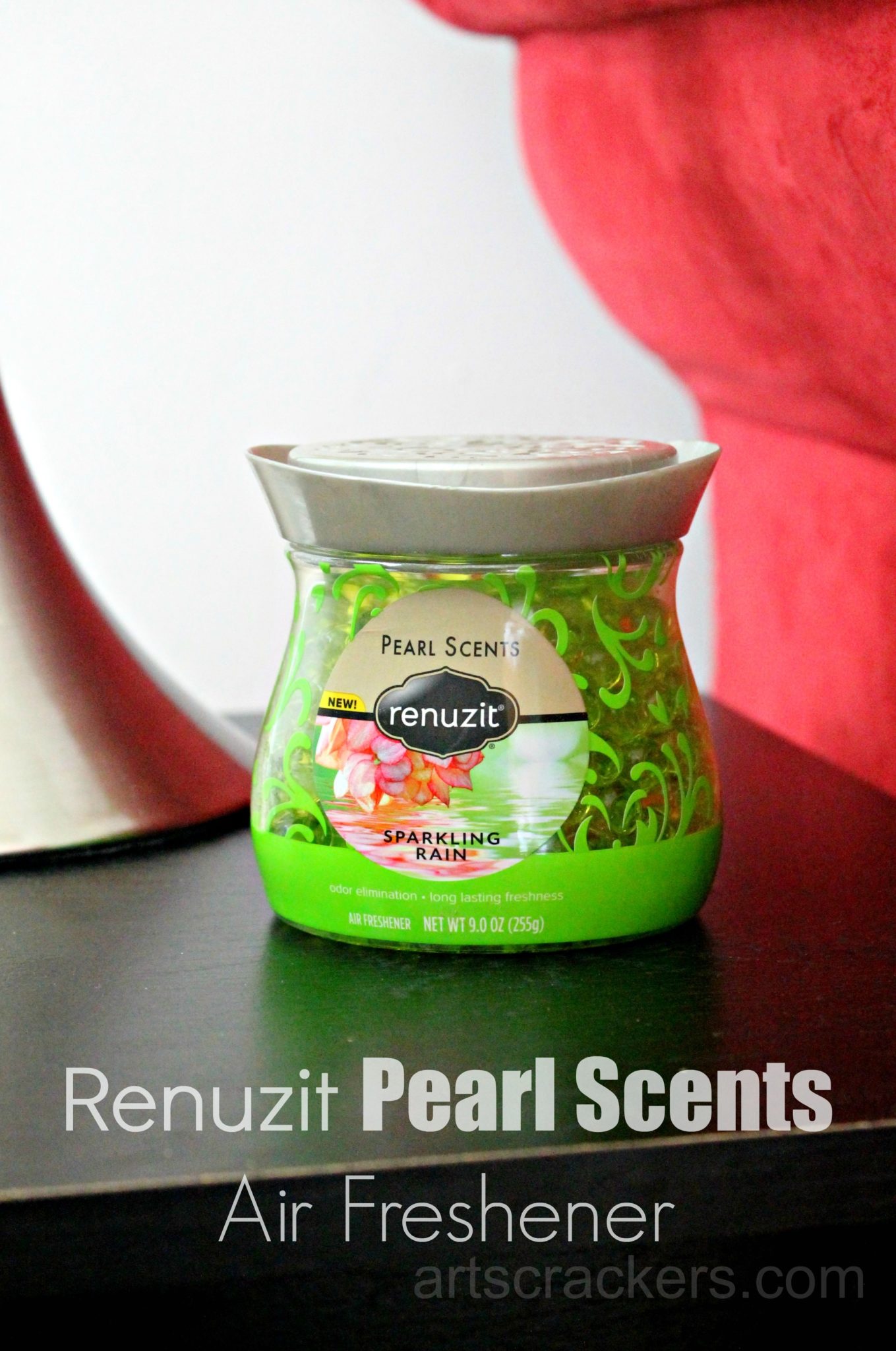 My husband loves smelly things and I love anything that works as a nice home decoration, so we were excited to receive the NEW Renuzit Pearl Scents. They are a new air freshener that diffuse into your home to providing a long-lasting aroma.
Click here to visit their website
Renuzit Pearl Scents comes in 5 scents, including Blue Sky Breeze, Serenity (Lavender and Eucalyptus), Sparkling Rain, Tranquil (Chamomile and Jasmine), and Seductive Pineapple.
What I Love
These air fresheners blend in nicely with your home decor. They come in a variety of colors and scents, so you can choose the one that fits you. The bottle is sleek and clean and the design on the lid is a pretty touch.
I put my Renuzit pearls in a couple places around the house. One went by the entryway (as seen in my post 8 Quick Tips to Transform Your Home Decor.) The other is in my living room coordinating very well with my spring wall decor (as seen in my post DIY Sprin-Themed Wall Collage.) We received Blue Sky Breeze and Sparkling Rain.
What I'm Not Huge On
Of course, with my allergies I can't really enjoy these scents as they are meant to be enjoyed. I leave the package paper on the lid and it's plenty strong enough for me. My husband brought one to his shop and opened it up and said it is very strong. The scents are nice though, and if you like lots of scent (and long-lasting aroma), these are for you.
I would also like to see more scents. I will definitely be heading to the store to check out the pineapple scent as I may be able to handle that one a little bit better. I would love to see maybe apple and other fruit scents and maybe vanilla.
Overall, Renuzit Pearl Scents are a long-lasting odor neutralizer with a variety of scents and a sleek design to fit nicely into your home decorating. They are a little strong, but the scents are delightful.
Bonus tip: I could not take these out of the packaging to show this to you, but if you plan to open it as it is meant to be used, dump the pearls into a nice crystal dish or add it to a vase then stick fabric flowers in the center as another exciting way to display them around your home!
You May Also Like