Get My Exclusive "30+ Easter Egg Filler Ideas" Here!
For Babies (My First Easter Basket)
Is your child celebrating his/her first Easter? First–YAY! This is such an exciting time. Babies can be hard to shop for when it comes to Easter gifts, so get things that are fun but also functional including some of the following:
219. Soft Books/Bath Books
220. Touch and Feel Books
221. Egg Shakers (Easter version of a rattle!)
222. Baby Bath Toys
223. Teethers
224. Baby Snacks/Baby Food
225. Soft Jammies
226. Fluffy Blanket
227. Stuffed Animal
228. TV Remote (without the batteries)
Basket Itself: Diaper Caddy
For Toddlers and Little Big Kids
Toddlers are at the age still where they do not really care what they are getting, they just think it is fun to get something. Use this opportunity, as above, to get something both useful and exciting. Check them out below:
229. Cereal
230. Stacking Blocks
231. Wooden Puzzles
232. New Clothes/Shoes
233. Character Undies
234. Potty Seat
235. And Old Pot and a Wooden Spoon (to make music)
236. Musical Piano Book
237. First Multi-Vitamins
238. Finger Paints
239. Plastic Mug/Special Cup
240. Character Plates
241. Play Purse/Wallet
242. Fake Razor and Shave Cream
243. Old Credit/Gift Cards
244. Family Photo Album
245. Playdoh
Basket Itself: Canvas Organizing Bin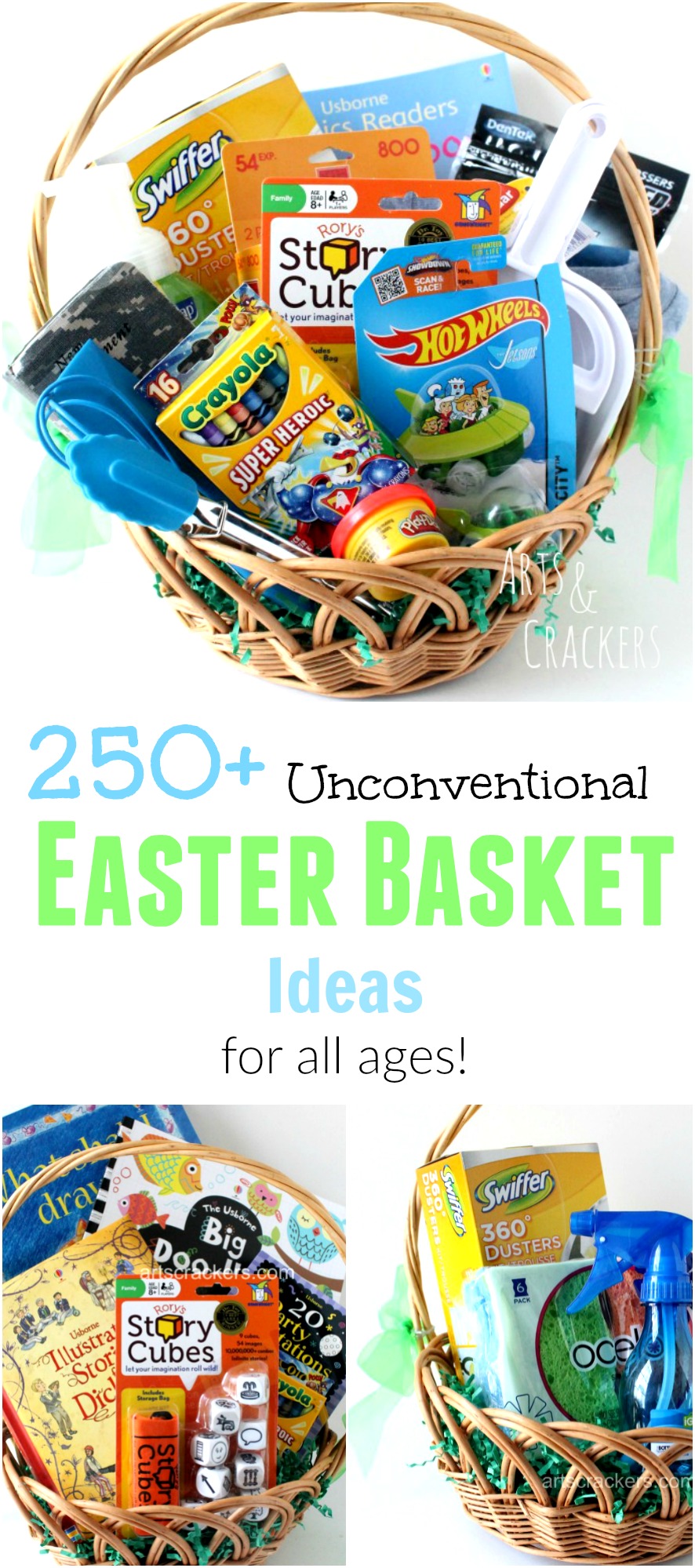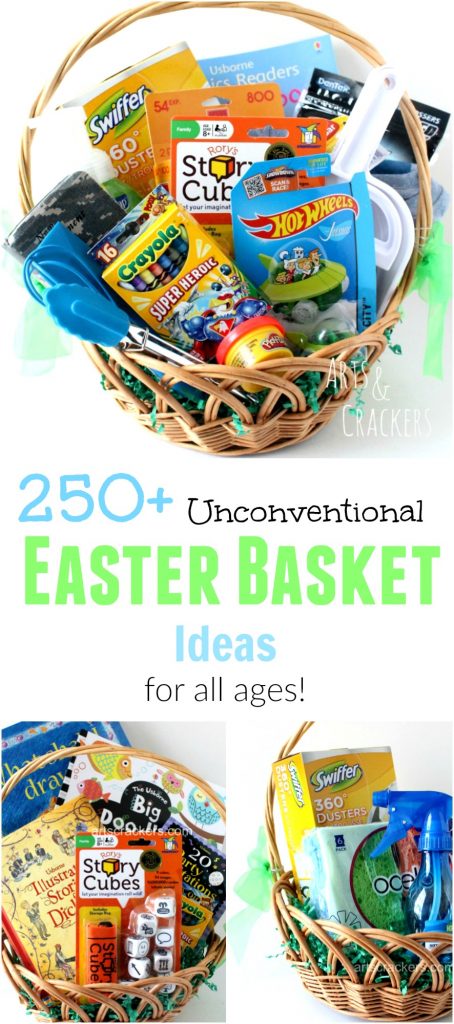 For Older Kids
Shopping for kids gets more difficult the older they get. Take time to get to know your child, their likes and dislikes, to personalize basket goodies just for them. At older ages, this is what matters more to them (whether they admit it or not), but below are a few ideas to get you started:
246. CDs/iTunes Gift Card (I have a hard time recommending this as there are some bad CDs out there, but listen to the words first and give your kids what you deem appropriate)
247. Chapter Books or activity books (like "Awesome LEGO Creations with Bricks You Already Have")
248. New Shoes/Clothes
249. Clothing Store Gift Card (The catch? They have to go shopping with you! Yay for quality parent-child time)
250. A Saving's Account and Checkbook (teach responsibility while helping save for college/adulthood)
251. Board Games for Older Kids (Cranium, Wits & Wagers, The Logo Game)
252. Body Products (lotion, wash, body sprays, etc.)
Basket Itself: Organizer Bin
Miscellaneous
There are always things that don't have a specific category but would go perfectly in any basket such as these:
253. Bible (New Testament or full Bible)
254. Money (I encourage you to encourage them to put it into savings)
255. Calendar
Bonus: Your time.

In the end, it really doesn't matter what you give your children in their baskets. What they truly just want is time with you. Take advantage of the holiday to accomplish that and do something special with them. Don't stress the gifts. Hopefully this list has helped you get some thoughtful ideas for your children so you can spend more time having fun with them and less time preparing for the day.
What basket idea is your favorite? Do you have any ideas to add? Let me know in the comments! I'd love to hear from you.
Sign up for my newsletter!
Know someone who could use this? Hit the "share" buttons below! Be sure to follow Arts & Crackers on social media (buttons at the top right of the page.)
You May Also Like