Disclaimer: I received a free product for my post! These views are my own and were not 
at all influenced by the party who gave me this opportunity..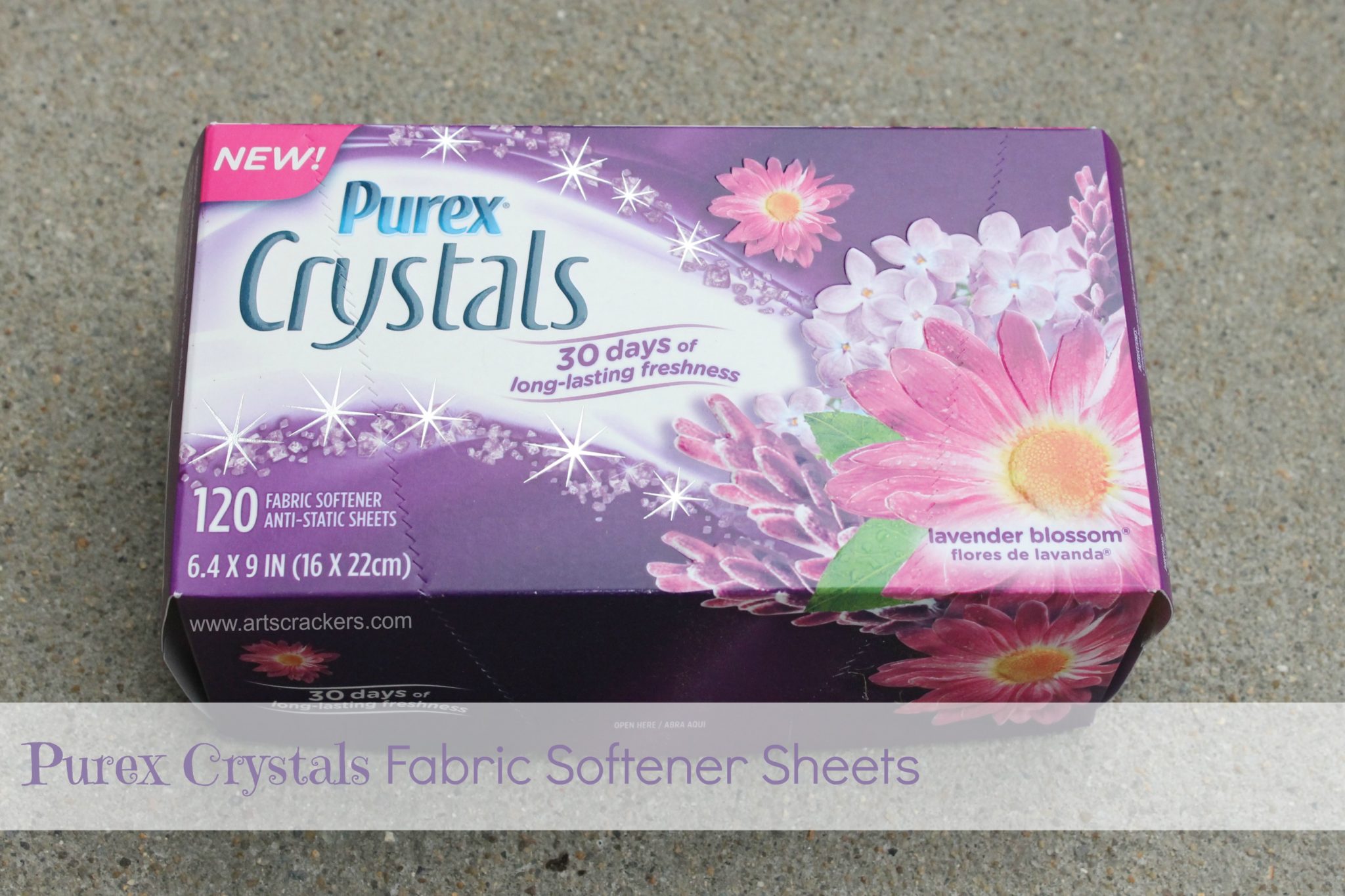 Imagine pulling a warm, soft blanket fresh from the dryer. Feels good, doesn't it? I love this feeling, but sometimes it is met with a stale smell or an unexpected ZAP! Purex Crystals Dryer Sheets gives you that just-out-of-the-dryer experience with reduced static cling and long-lasting scent. Click here to visit their website We received the Purex Crystals Lavender Blossom fabric softener sheets to try, but they also sell Fresh Spring Waters scent. Since the dryer sheets were too strong for my allergies, I passed them along to a friend to help me out with the review.
Click here to visit their website
I really wish that I was able to use these Purex fabric softener dryer sheets for our laundry because they reduce static cling which is produced quite frequently by our loads with all the soft baby clothing and blankets running through. Purex Crystals sheets also help to repel pet hair and repel lint! I still find old pet hair in my clothes sometimes and our dryer likes to explode lint back into the laundry, so these would be extremely helpful to us (if only they came in unscented!) Purex Crystals dryer sheets are strongly scented so they last up to 30 days. The friend whom I had try them said "I really enjoyed using Purex Crystals fabric softener sheets. They not only made my clothes smell great but also my entire laundry area." I can vouch for this as well since I had to put the unopened box in my garage and the scent lasted in my living room for several days and is still lingering and quite potent on the paperwork that I received with it! If you like strong scents, this is for you.
What I'm Not Huge On
As I am sure you can tell, I found the Crystals sheets to have a much too strong odor which my allergies can't handle. I love the scent–it smells so great there is just too much of it. My friend, on the other hand, said "The only thing I did not like about them is that they claimed to have 30 days of lasting freshness. It's only been a few days and though they are soft and static free the sent is already fading."
Overall, Purex Crystals fabric softener sheets are great for reducing static and repelling pet hair and lint. Though they may not leave a lasting scent for the whole 30 days, they are very strong and will last quite a long time. Crystals dryer sheets are currently sold at Walmart.
Bonus tip: Use the fresh sheets in your closets, stinky shoes, or gym bags. Re-use sheets that have already gone through the dryer to make these cute scented *fabric softener sheet flowers* or add a little bit of Purex Crystals (in a scent that agrees) to the middle of a used sheet then tie it up for the ultimate *scented sachet* that you can toss in wherever needed!
Know someone who could use this? Hit the "share" buttons below! Be sure to follow Arts & Crackers on social media (buttons at the top right of the page.)
-Have you tried the new Purex Crystals dryer sheets? What are your thoughts?
---
Enter to win some Purex Crystals Dryer Sheets for yourself!
Entry-Form